Now available at Amazon, B&N, Smashwords, Gumroad, and more.
Episode 1 can be found at Amazon, B&N, Kobo, Smashwords, Gumroad, Apple, and more.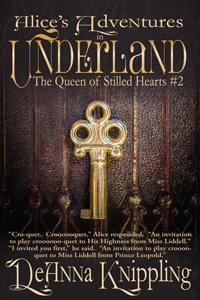 "Cro-quet. Croooooquet," Alice responded. "An invitation to play croooooo-quet to His Highness from Miss Liddell."

"I invited you first," he said. "An invitation to play croooo-quet to Miss Liddell from Prince Leopold."

"Here's your invitation to play croooooquet." Alice held out an imaginary invitation.

Leopold took it and handed her one back. "And here is yoooours. Cro-quet, cro-quet."
With the invention of a serum that prevents most people infected with the zombie sickness from becoming raving cannibals, Victorian society finds itself in need of more standards:  to separate the infected from the whole, to  control when and how the infected can come into contact with the pure, to establish legal contracts, precedence, employment, and more, with regards to the walking dead.
The very backbone of the British Empire is its standards.
The middle daughter of the Dean of Christ Church in Oxford, Alice Liddell, finds a certain lack of charm in the standards she must follow, with increasing strictness, day after day.  Wild and rebellious, she battles her father's cold discipline, her mother's striving to hide her middle-class origins, and the hollow madness of the world around her, in which the teetering Empire desperately pretends that nothing is, in fact, the matter.
Enter Mr. Charles Dodgson:  one of the chaste Dons of Oxford, married to his mathematics.  He charms Alice and her sisters, often taking them on walks and boat rides (chaperoned, of course), and telling them jokes and stories.  He is twenty-four when he first meets them.
And he is dead.
Turned in a tragic accident at Rugby, Charles uses the serum to keep him from the ordinary sort of madness that affects zombies.
But it doesn't affect the elegant madness of his brain.
And one day, as he sees Alice struggle against the chains that constrict her, chains so similar to his own…
…one of his playful stories becomes something more.
Episode 2: In which Alice meets the Queen and her son, Prince Leopold; a game of croquet is played; and an arbitrary judgment is meted out.
—
An sample may be obtained (fingers crossed) at any of the links given above.  If you happen to be interested in a free review copy, please do let me know.
Episode 1 of The Queen of Stilled Hearts showed the first time that Alice met Charles Dodgson, upon his arrival at the Christchurch Deanery to take the pictures of the Dean's three daughters: Ina, Alice, and Edith.
Alice found Mr. Dodgson, a zombie, quite fascinating, as was his story of being turned into a zombie…by no less than a rabbit!
Now, Alice is older, age eight, and awaits the arrival of Queen Victoria for a visit.*
A word of caution: sometimes the greatest of friendships are occasioned by the direst of cruelties.
—
*Which she actually did do, in 1856. I couldn't find out whether Leopold had accompanied her, but he might have, I suppose.