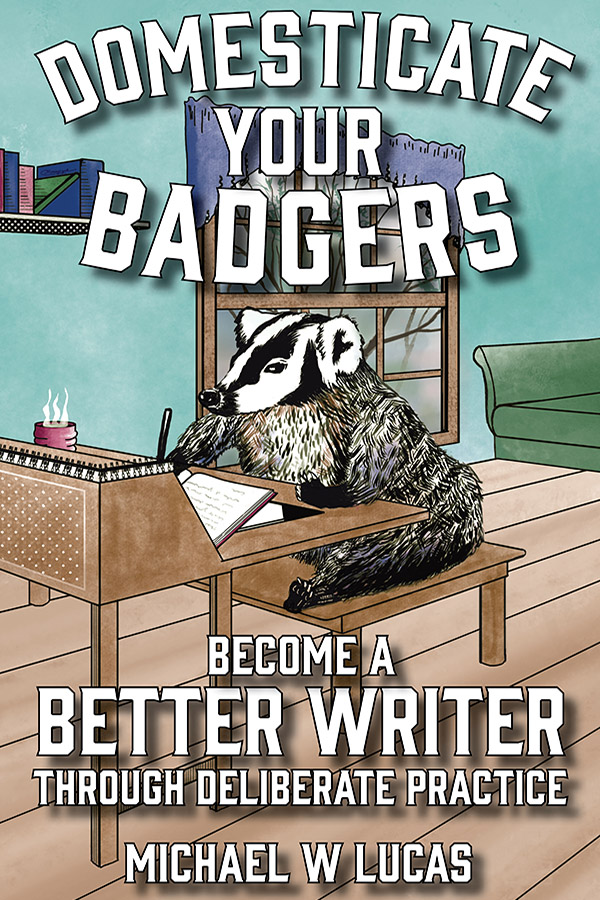 Professional writers have to learn a lot of different techniques, many of which aren't written down in books or taught in classes.
How do they learn those techniques, then? Read a bunch of good fiction and hope for the best?
Not exactly.
Michael W. Lucas writes both fiction and nonfiction, writing across multiple genres and always with a twisted, unique sense of humor. He takes "taking things to their logical extremes" to a new level.
If anyone has had to learn how to learn good techniques while still going completely off the rails with the content of their fiction, it's him.
In Domesticate Your Badgers, Michael takes apart the process of learning good writing craft, approaching it from multiple directions to help you craft a plan to stop spinning your wheels and move forward as a writer.
And he'll show you how to do it without pigeonholing you into concepts or plans that will restrict your creative imagination.
Domesticate Your Badgers is part of the Write Stuff Storybundle, ten works on the craft & business of writing fiction available for a limited time.
UPDATE! The Write Stuff Storybundle is over, but you can still find Michael's book at the updated link below:
I got to ask him a few questions for the StoryBundle!
---
1. What type of writer is your book aimed toward?
Domesticate Your Badgers is aimed at writers of all levels. I
deliberately wrote the book I wish someone had given me fifty years
ago, but it would have been helpful in college or even a few years
ago. If you want to become a better writer, and need to create a plan
that targets your personal weaknesses, this can help you. Fiction,
nonfiction, it doesn't matter.
2. What problem does your book solve for those writers?
DYB attacks two problems.
First, the world is full of writing advice. Some of it is actively
terrible. Some of it is good, but not for you. Some of it is great
advice for your field, but you needed it ten years ago–or, worse,
you must learn something else before you can take advantage of it.
Second, writing is an art like pottery or painting or music. Unlike
those fields, it's very hard for a writer to judge their own work. A
student painter can look at their work and say "That looks like a
really nice apple. Too bad I wanted an armadillo." They see their
problem and can try again. Musicians train their ears to hear
problems. Unlike those arts, the act of writing is completely detached
from the experience of reading. The student writer needs a unique
mindset to polish their craft.
Between these two problems, I've seen so many writers with a special
spark spend decades spinning their wheels. I should know–I was one of
them.
I wanted to help writers develop the way of thinking that lets them
recognize useful advice, practice those skills, and get useful
feedback that will improve their work.
Plus, the world needs more badgers.
3. Who do you consider your writing mentors?
I've gone out of my way to study with anyone who would have me, but
I'll drop a few names: Tim Powers, Joe Haldeman, Kris Rusch, Nancy
Kress, Dean Smith, and Samuel R Delany.
4. What else would you like readers to know about?
If you're reading about this bundle, you need to know about Alex
Kourvo's Writing Slices blog. As far as I know, it's the only blog
dedicated to reviewing books about writing. She's saved me from
wasting a bunch of money on bogus books, but that's probably countered
by how many titles I've purchased based on her recommendations.
https://writingslices.wordpress.com/
And I would say this even if she hadn't given five stars to my Cash
Flow for Creators.
[Side note, I know Alex, and she is amazing. At one point she dead-ass looked me in the eye and criticized something I wrote, totally expecting me to go off on her. She has that kind of integrity. She was right, too! I can't remember what it was now, just the look on her face.–Ed.]
---
I really liked Cash Flow for Creators and recommend it!
Michael's bio:
As Michael W Lucas I write books explaining exactly how computers were a mistake. As Michael Warren Lucas I write SF, thrillers, mysteries, the odd tidbit of romantic suspense, and a bunch of other stuff. To find out when I release a book, sign up for my topic-specific mailing list.
You can find Michael at:
His website: https://mwl.io/
Facebook: https://www.facebook.com/agshekeloh
Twitter: https://twitter.com/mwlauthor