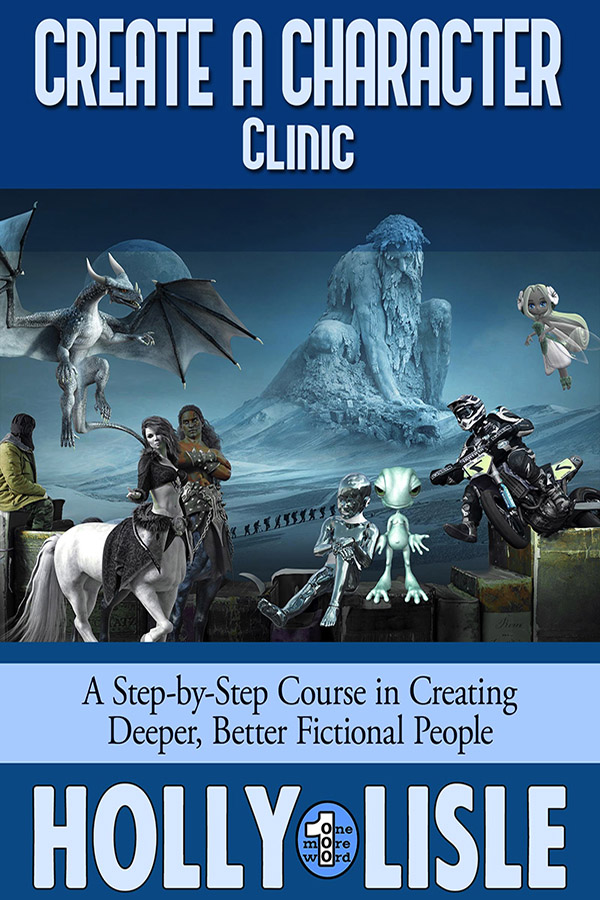 Struggling to create a character in your fiction? Feel like they aren't quite as cuddly (or stabby) as you'd like?
Or do you know you have a great character, but you struggle to show the reader how great they are?
Holly Lisle is a long-term professional writer who also helps coach writers through difficult issues from writer's block to revision. Here, she walks writers through several ways to develop their characters and bring them to life, instead of just fumbling around with lists of traits and appearances.
If you've ever said to yourself, "But in my head they were interesting," then give Create a Character Clinic a try!
Create a Character Clinic is part of the Write Stuff Storybundle, ten works on the craft & business of writing fiction available for a limited time.
UPDATE! The Write Stuff Storybundle is over, but you can still find Holly's classes at the updated link below:
I got to ask Holly a few questions for the StoryBundle!
---
Holly says:
At the point where I decided to go indie full-time (after many years as a commercially published author), I'd already written some online ebooks for writers who'd been asking me writing questions for years.
The first of those, Create A Character Clinic, answered many, MANY questions the fiction-writing part of my readership had been asking me. The book has had a number of updates to fix links and make the worksheets easier to get, as well as to add in some new techniques (and fix typos).
1. What type of writer is your book aimed toward?
Create a Character Clinic is solely for fiction writers, and while I initially wrote it with beginners in mind, I've expanded bits of it as I've developed new techniques — it's now a nice reference book for anyone who would like some new approaches to creating characters, and who would like to avoid some of the gawdawful mistakes writers from beginner through the occasional published pro make when building and writing fictional folk.
2. What problem does your book solve for those writers?
Character Clinic eliminates the "character sheet" approach that starts with giving fictional folk height, weight, eye color, and other absolute non-essentials of character creation.
Instead, my process presents the writer with questions in seven critical areas of character development, shows the writer how to get answers to these questions, then walks the writer through bringing the character to life in ways that use those answers to create great story conflicts.
I also demonstrate how to use Maslow to build better conflicts, and how to SHOW your readers a character, rather than telling them.
["Maslow" refers to Abraham Maslow, American psychologist, who established a famous "heirarchy of needs" model of psychological processes.–Ed.]
In the third section of the book, I demonstrate The Sins of Characterization, and How to Commit Them RIGHT (though one sin is only, always, EVER a sin, and should never appear in published, professional fiction).
So to sum up, you'll learn to imagine and write living, breathing folks who face real problems… and who don't cheat getting through those problems to satisfying resolutions at the end.
3. Who do you consider your writing mentors?
The folks whose books and stories and writing articles I read while teaching myself how to write fiction… Primarily:
4. What else would you like readers to know about?
I'm currently writing (under a pseudonym), a five-novel urban(ish) fantasy series set in a small town in Ohio — my home state, and one it took me forty years to get back to. The series includes aliens and monsters, inhuman allies, both bright and dark views of humankind and alienkind… a disturbing pet cat who's more than he seems… and cookies that might just save the world.
I'm halfway through the first draft of book five, and will be publishing all five novels at a rate of one per month when they're done.
Interested readers OR writers can get a free story or writing class and find out more here. I'm the face in the picture.
[She has a free flash fiction class available here, too!–Ed.]
---
Side note: Holly has some great examples of copywriting on her course website, too. She has over 20 classes to take…and she makes them very hard to resist!
Holly's bio:
I've been writing with intent to publish since January 1st, 1985 when my New Year's resolution was to write a novel before I turned twenty-five (ten months later, more or less).
I hit my resolution with a few days to spare, but the book, Hearts In Stitches, sucked. I wrote a LOT after that, accumulating a big shoebox with well over a hundred rejection slips in it before anybody decided I was good enough to pay for fiction.
I actually started selling in 1991, and I broke in with with the fantasy novel Fire In The Mist (which won the Compton Crook Award for Best First Novel), and with a couple of sonnets I sold to the SF magazine Aboriginal.
It was a long hard slog between intent and realization.
It's been a rollercoaster ever since.
But I love telling stories. In fiction, I've found the work I want to do for the rest of my life.
You can find more about me (and a ton of free articles I wrote about writing fiction) at https://hollylisle.com/articles/
I am not my work. But my work is me.
You can find Holly at:
Her website: https://hollylisle.com/
Twitter: https://twitter.com/hollylisle