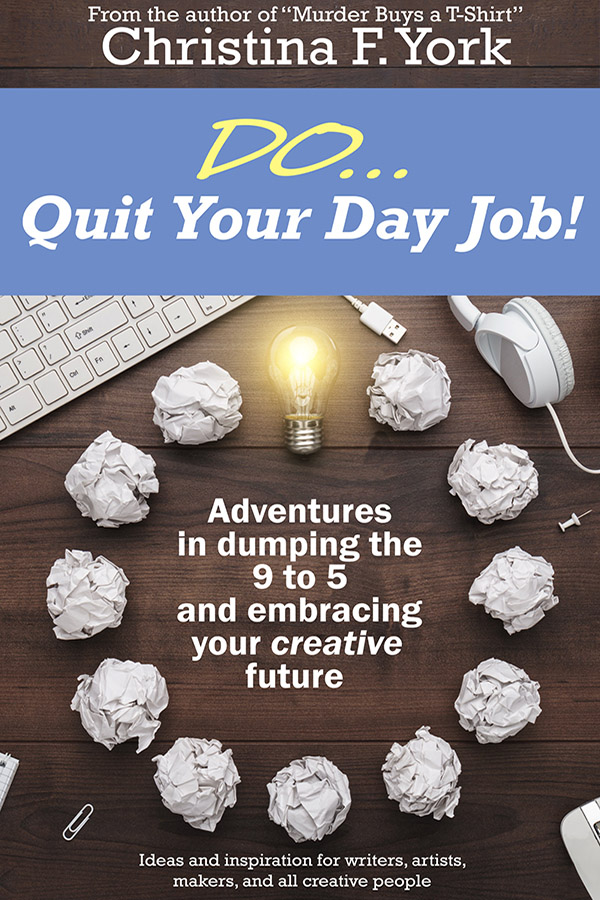 You want to quit your day job and start a creative career for yourself. You've run the numbers. You think it might be logical and doable. Maybe even profitable.
But.
You've been here before, where the logical and practical don't coincide with actual reality. It feels like any day now, another shoe is going to drop.
What's missing?
Christina F. York is one of the most practical, logical people I know, as well as one of the most widely written. It seems like she can pick up almost any genre and do it well, although she tends to spend her time most notably with mystery stories.
In her book, Do…Quit Your Day Job!, she writes a series of old-fashioned essays, the kind where the writer writes in order to clarify their thoughts about a subject and polish something so finely that it reflects a larger truth.*
Here, Chris writes about how she's navigated her creative career. The bigger truth that these pieces reflect–well, in my opinion–is that a creative career has to have not just logic but emotional preparedness and resiliency in order to succeed. Spiritual resilency, too.
Here's a quote:
I left school years ago, and though I am still a mother my children are grown and on their own.

The business we owned then died many years ago, before that marriage did.

Even the job I held for the last 21 years is now in the past.

So who am I now?

from the "Who are you" essay
These were the types of questions I didn't answer in time to save my business when I got divorced. I can recognize that now. But reading parts of Chris's book makes it hit home all over again.
Do…Quit Your Day Job! is part of the Write Stuff Storybundle, ten works on the craft & business of writing fiction available for a limited time.
UPDATE! The Write Stuff Storybundle is over, but you can still find Chris's essays at her Patreon link below:
I got to ask Chris a few questions for the StoryBundle!
---
1. What type of writer is your book aimed toward?
Do…Quit Your Day Job! is aimed at writers at all levels from beginner to seasoned professional. It's for anyone contemplating leaving the "day job" world for the life of a full-time creative, whether as a retiree for whom writing is a fulfilling hobby, to the pro with a day gig looking to make the leap to full-time writing.
2. What problem does your book solve for those writers?
I wish I could claim this book solves problems, but one thing I have found over the years is that every writer is different, their issues are different, and therefore their solutions are different. In Day Job I have tried, rather than offering hard-and-fast solutions, to provide a framework for approaching and weathering the change: what questions to ask yourself and your family, what your needs are and how will you use your unique skills to meet those needs. I have tried to provide real-world examples, including the mistakes I have made in my first two years of retirement, to help writers find the answers they need.
3. Who do you consider your writing mentors?
Dean Wesley Smith and Kristine Kathryn Rusch of course. They have been my friends for decades, well before I started seriously writing, and have provided encouragement and swift kicks in the backside as each was needed. In addition I owe a huge debt to Denise Little. While not a writer herself, Denise is one of the wisest and most generous editors I have had the pleasure to work with. She taught me more than I could have imagined over the course of writing several books with her as my editor, and she guided me through the process of traditional publishing with patience and amazing kindness.
4. What else would you like readers to know about?
Coming through the period of change that is documented in Day Job forced me to seriously examine how we approach a major life change, and the pitfalls and roadblocks we don't see coming. There is one big lesson I took away from that experience:
Know that you are not alone, that others are facing the same challenges and there is someone out there who understands your situation and faces the same questions and challenges you do.
Trying to combine creativity and daily life is a huge challenge – one we need to acknowledge and examine – and there is no right answer. Your situation, your life, will always be a unique combination of you and your world, so don't let anyone else dictate what is "best."
I have a Patreon channel, Dispatches from the Tsunami Zone, which was the inspiration for Day Job and where I post every week about the creative life. I would love to have anyone who finds Day Job of value join the Patreon crew!
My choice is to build my full-time career with the release of the fifth book, Murder Buys a Lemon, in my Haunted Souvenir Shop cozy mystery series. This is the first book in the series to be released as an indie publication (books 1-4 were traditionally published). [Murder Buys a Lemon is currently exclusive to Chris's Kickstarter supporters at the moment but will be released soon! You can sign up to find out more by clicking the SUBSCRIBE button here: www.yorkwriters.com/dispatches–Ed.]
I just joined the collective of writers at Mystery, Crime, and Mayhem Magazine, a crime-story quarterly, and I hope to finally launch the Spy Girls mystery series, as well as at least one more cozy series over the next year or so.
---
*She probably rolled her eyes when she read that, but it's true. I think this one's going after Johanna's book. Fun fact, after Chris read Johanna's interview she got, well, a bit jealous and rewrote her answer for question 4, too. I'm glad she did!
Chris's bio:
Christina F. York, best-selling writer of mystery, romance, SF/F, and historical fiction, writes under her own name as well as mystery alter egos Christy Fifield and Christy Evans. York says she never met a genre she didn't like to write, with the possible exception of horror. Even that changed when she was short-listed in the Year's Best Horror a while back (she didn't know it was a horror story, but the editor clearly did).
Evans wrote the popular Lady Plumber Mystery series, and Fifield writes the Haunted Gift Shop Mystery series. Fifield is also launching a new Spy Girls novel series soon with Tsunami Ridge Publishing (www.TsunamiRidge.com).
Retired after more than 50 years as an accounting and finance professional, York no longer has to balance accounts and now spends her time balancing the other parts of her life: writing and other creative interests, family, friends, reading, and falling down Internet rabbit holes in pursuit of obscure knowledge.
Like so many others before her, she says she doesn't know how she ever found enough hours to hold down a full-time day job.
You can find Chris at:
Her website: https://www.yorkwriters.com/
Facebook: https://www.facebook.com/christina.york.37
Twitter: https://twitter.com/christinafyork