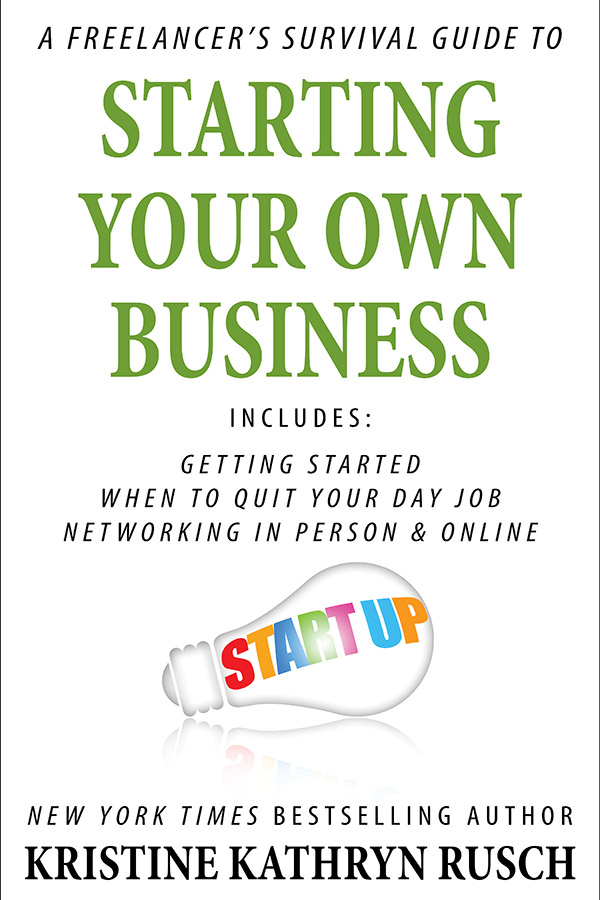 Starting your own business as a freelancer isn't easy…
…wait, what am I talking about? It's not that hard. There are some hoops you really ought to jump through, but the real hurdles of going freelance involve a couple of mind-shifts. Your employer is no longer responsible to solve business-related problems for you or to put a chokepoint on what you can do.
Kristine Kathryn Rusch has been a professional freelance writer on both the traditional side and the indie side for quite some time. (Yes, being traditionally published is still freelancing!)
In A Freelancer's Guide to Starting Your Own Business, she talks about starting a business, quitting your day job, and navigating the rocky shores of other writers, who may or may not have your best interests at heart.
I consider Kris a writing mentor of mine, specializing in writerly perspective adjustment. Get a real look at what it takes to go freelance and stay that way.
It's the staying part that's difficult. But maybe not as hard as you think!
A Freelancer's Guide to Starting Your Own Business is part of the Write Stuff Storybundle, ten works on the craft & business of writing fiction available for a limited time.
UPDATE! The Write Stuff Storybundle is over, but you can still find Kris's book at the updated link below:
I got to ask Kris a few questions for the StoryBundle!
---
1. What type of writer is your book aimed toward?
My book is geared toward writers who are serious about having a long-term career. It's probably better if new writers read this, but the book can help established writers tweak their systems.
2. What problem does your book solve for those writers?
Most writers are not business-minded. That's something anyone can learn. So this book gets them started on building a business, which is what a writing career is.
3. Who do you consider your writing mentors?
Damon Knight, Kate Wilhelm, Jack Williamson, Harlan Ellison
4. What else would you like readers to know about?
I have a book, Killer Advice, in another Storybundle. This bundle is space opera. So you can see what I write, and how I write it if you get both bundles.
[There were issues with my website, and this post didn't go up when it should have! That StoryBundle is closed. You can find Killer Advice here instead.]
---
Kris's bio:
New York Times and USA Today bestselling author Kristine Kathryn Rusch writes in almost every genre. Generally, she uses her real name (Rusch) for most of her writing. Under that name, she publishes bestselling science fiction and fantasy (including the Fey series, the Retrieval Artist series and the Diving series), award-winning mysteries, acclaimed mainstream fiction, controversial nonfiction, and the occasional romance.
She also edits. Beginning with work at the innovative publishing company, Pulphouse, followed by her award-winning tenure at The Magazine of Fantasy & Science Fiction, she took fifteen years off before returning to editing with the original anthology series Fiction River, published by WMG Publishing. She edits a wide variety of projects, including the Holiday Spectacular for WMG Publishing.
She lives and occasionally sleeps in Las Vegas.
You can find Kris at:
Her website: https://kriswrites.com/
Twitter: https://twitter.com/KristineRusch