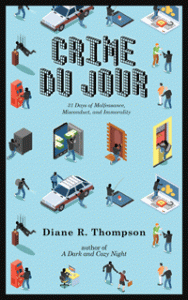 Crime du Jour: 31 Days of Malfeasance, Misconduct, and Immorality
One crime story per day, all the way through October. Ebook to be published Nov 1. This will be under my mystery/crime pen name, Diane R. Thompson!
Crime du Jour #8: Criminal Contempt of Court
A SCANDAL WAITING TO HAPPEN
Chari Hyde had always been something special, even if most people didn't appreciate it. She was a green-eyed brunette who looked good in a red lip and a tailored business suit.
She might purr like a sex kitten, but she drew the line at sexual contact.
"I clean up after scandals," she told her boss. "I don't want to be your scandal waiting to happen."
Her boss, John Carter Wright, was a famed real estate mogul in Boston.
And a murderer.
It had been decades ago, literally before she was born, in 1989. (Chari had been born to well-off parents in Connecticut.) A college student, one Leslie Vensel, had been raped and murdered in nearby Somerville, off Union Square. The case remained unsolved.
But not undiscovered. The evidence was in a pile of old records Wright wanted scanned in. There was a copy of the police report, the autopsy, the untested DNA kit report. And Wright's witness report: he had been at a party nearby.  Clipped inside the back cover were some handwritten notes indicating that money had been requested and paid out. A lot of money.
To a pair of men mentioned elsewhere in the file as being other witnesses at the party.
As far as Chari could tell, Wright had literally forgotten all about it.
Wright had a bad reputation with women.  He had had Chari put several rape allegations to bed.  She scanned the contents of the folder in and boxed the hardcopy up with the other documents going into storage.
What did it make her, that she didn't report anything to the police? An accessory after the fact? There was no statute of limitations on murder.
On the one hand, it could be like writing her own retirement check.
On the other hand, Wright had raped and murdered a woman.
Yet considered it so unimportant that he's left the paperwork in a pile of old tax returns.
…
A year passed. Wright's records were, unsurprisingly, hacked.  And the dirt that was dug up was sold to the Boston Globe for a front-page exclusive.
The headline read:
REAL ESTATE MOGUL JOHN CARTER WRIGHT ARRESTED IN CONNECTION WITH FAMOUS COLD CASE
Then it read:
REAL ESTATE MOGUL JOHN CARTER WRIGHT RELEASED ON $7 MILLION BAIL
"Hey boss, can I talk to you for a minute?"
"Sure, doll. What's up?"
"You know me, John Carter. It's never just one thing. Here, have some espresso."
Chari led him through the business of the morning. Wright was a man with vision, even if that vision, like his office, was more than a little rococo.  He sat in an overstuffed armchair and sipped his quadruple espresso as she leaned against the table, dressed in red.
"Anything else?"
"I'm sorry to have to bring this up, but I do.  It's the Vensel murder case."
"You know there's nothing to that, baby."
"I know, John Carter," she purred.  "But I've been subpoena'd."
"You?"
"Maybe they think I know more about your business than you do."
He chuckled.
She said, "What should I do, boss? They want me in court during your trial next month.  Should I go? I don't want to be your scandal waiting to happen."
They locked eyes.
"It would be criminal contempt of court if I didn't," she said. "I could go to prison."
Chari could see his eyes flicker as he calculated: how the paper could possibly have obtained his records, what else she could do to him.
He said, "Let's make sure that doesn't happen."
She put her hand on his chest.  "Let's," she said. "I've always wanted to be more than your secretary.  I was just waiting until the time was right."
He smiled and, behind his drooping eyelids, ran a few more numbers.
The next day's headlines:
REAL ESTATE MOGUL JOHN CARTER WRIGHT BARBITUATE SUICIDE AFTER SEXY SECRETARY SUBPOENA'D
"HE OFFERED TO MARRY ME," VIXEN SOBS "BUT NOW IT'S TOO LATE"
LOVE CHILD INHERITANCE DRAMA ENSUES
THE END
Geeky gothics and other strange & wonderful fiction: sign up for the Wonderland Press newsletter here. Includes two tales of Doctor Rudolpho, a teenaged fortune-teller who has the Sight.  If you enjoyed today's story, please consider signing up!
You can find 2018's story-a-day project, Tales of the Normal, here, and 2017's story-a-day project, October Nights, here.