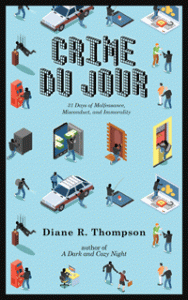 Crime du Jour: 31 Days of Malfeasance, Misconduct, and Immorality
One crime story per day, all the way through October. Ebook to be published Nov 1. This will be under my mystery/crime pen name, Diane R. Thompson!
Crime du Jour #7: Computer Crimes
A MOMENT OF SILENCE
Ramsey County, Minnesota – Investigator Frank Murphy – December 7, 2025
This report is for internal use only, and is marked "confidential." For use at the authorization of Private Eyes, Inc., only.
I was assigned the Murtinger case on November 3rd and began investigations at that time. The incident occurred a few days previously, on Halloween.
The incident occurred in Maplewood, which isn't so much a suburb of St. Paul as it is a geographical Tetris block. The house had been built in 1965 but retrofitted as one of the earliest "smart" houses in the 2010s.  See Attachment A for floor plan and image files.  The house is one story with a walk-out basement accessible by ramp.  The resident, Edie Murtinger, is disabled and uses a motorized wheelchair. Although she is able to stand at times, she mainly uses a series of powered lifts to move between chair, bed, and bathroom facilities.
When interviewed, she commented, "My house gave me a sense of control."
But, for several hours on Halloween, that control was taken from her.
…
Mrs. Murtinger started passing out Halloween candy at five thirty.  The weather was good: not too windy, temps above freezing, no precip. She passed out full-sized candy bars and dried fruit, and was unsurprisingly a popular stop for local children and teens. Her adult daughter, Darnell, was to arrive at six thirty but was trapped on the 94 bridge during a multiple fatality accident.  Normally, a handler would have overridden the self-driving car systems and rerouted traffic, but the system had gone down due to a cyberattack, which both caused and compounded the tragedy.
At seven fifteen, the house started to go on the fritz. The lights blinked on and off, loud shrieking noises played over the house speakers (part of a Halloween "mood music" file playing on the computer), and Mrs. Murtinger's phone started prank-calling numbers in the area. She attempted to report an issue to the company that managed her "smart" home services; however, the call was rerouted and left with voice mail on the subscription line for The New Yorker.
Abruptly, Mrs. Murtinger's motorized wheelchair, wirelessly connected to the house system, began to malfunction.  It pulled her away from her front door, which slammed shut behind her, and rolled her into several walls. Attachment B contains the documentation of the damage to the walls, which, because of the age of the house, was not extensive.  However, the movement was enough to eventually throw Mrs. Murtinger onto the kitchen floor near the back door.  See Attachment B for image file MurtingerNov3-0013.jpg. After she had fallen, the house went dark and silent.
From her position on the floor, Mrs. Murtinger was unable to see the front door; however, she heard it open and multiple people enter, calling "Trick or treat!" and laughing harshly.
The alleged assailants passed through the house, quickly looting valuables from Mrs. Murtinger's wall safe in the bedroom, which, according to Mrs. Murtinger, was opened immediately, as if the safe were already unlocked.  See Attachment C for a list of items Mrs. Murtinger listed as missing or damaged. Of especial note was the destruction of all in-house computer systems and backups. Recordings were obtained via a second computer system nearby, which had illegally piggybacked offMrs. Murtinger's wireless signal. See Attachment F for more details.
The alleged assailants then entered the kitchen and began mocking and threatening Mrs. Murtinger. She did not recognize any of the three individuals, whom she described as being young Caucasian men with dark hair. She particularly characterized them as "hipster neckbeards." See Attachment C for the arrest reports of the alleged assailants. The alleged ringleader is the one in the fedora, William A. Benysek, who had previously been charged with six counts of gross misdemeanor computer crime (never convicted).
Mrs. Murtinger stated all three of her alleged assailants spat on her, with Mr. Benysek proceeding to beat her with a steel snow shovel that had been left inside the back mudroom off the kitchen.  See Attachment A for the floorplan and Attachment B for a video camera recording of the attack. Because the camera was outside the back door, no images are available; however, the sounds during the attack are relatively clear.
Mrs. Murtinger did not suffer serious injuries from the attack itself, but did suffer several broken ribs and multiple contusions, including a concussion, from the fall beforehand.  See Attachment C for further details and images. Mrs. Murtinger says the alleged assailants left the house at approximately seven-thirty. At seven forty-two, she was able to press an emergency call button on the arm of her motorized wheelchair. She was not, however, able to leverage herself back into the chair, which was still upright.
Emergency services reached the house at eight-oh-three p.m. Mrs. Murtinger was taken to HealthEast Urgent Care. The alleged assailants arrived soon afterward, claiming that their vehicle had called them "murderers" and driven them into a light pole on Interstate 494 just before Exit 60. Coincidentally, the three men were placed in a room near Mrs. Murtinger's, and were quickly identified.
…
Mrs. Murtinger says that her "smart" house has not behaved satisfactorily since then. Off-site backups were installed along with new hardware, but Mrs. Murtinger says, "Jeeves just isn't the same."
When asked who "Jeeves" is, Mrs. Murtinger blushes and says, "That's the name of my computer. The one who runs my house."
See Attachment D for information on the fictional butler "Jeeves," created by author P.G. Wodehouse, and notably played on the ITV network program in the UK by actor Stephen Fry.
See Attachment E for a poem that Mrs. Murtinger wrote after the "death" of Jeeves, and Attachment F for possible connections to the near-complete Maplewood Internet outage on November 30th, which several of our own PEI software developers have referred to as "a moment of silence."
THE END
The detective in this story, Frank Malloy, is from the Company Justice series.  You can find the first book, Mindsight, here.
Geeky gothics and other strange & wonderful fiction: sign up for the Wonderland Press newsletter here. Includes two tales of Doctor Rudolpho, a teenaged fortune-teller who has the Sight.  If you enjoyed today's story, please consider signing up!
You can find 2018's story-a-day project, Tales of the Normal, here, and 2017's story-a-day project, October Nights, here.