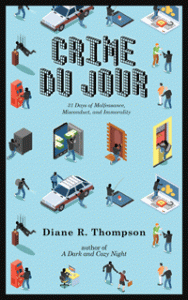 Crime du Jour: 31 Days of Malfeasance, Misconduct, and Immorality
One crime story per day, all the way through October. Ebook to be published Nov 1. This will be under my mystery/crime pen name, Diane R. Thompson!
Crime du Jour #9: Cyberbullying
THE CASE OF THE LILAC PURPLE GALAXY S9 PHONE
It was 4:15 in the morning when I got on the light rail to DIA. I arrived at DIA at 4:52. My flight was for 6:45. I was half asleep. I had limited myself to carry-on luggage and had my plane ticket printed out and ready.  I don't trust phone tickets, because once I had a battery die mid-check-in.  Now I never go anywhere without a power bank, but that's beside the point: I had a printed ticket.
I pulled all my junk out and put it into the tubs, went through security, put everything back into my carry-on and pockets, then stumbled toward the nearest coffee shop.
Soon, coffee-with-cream in hand, I found my gate and sat down to wait.
Where I discovered that I could not unlock my phone.
I had a Lilac Purple Galaxy S9 phone at the time. It had a clear silicone case, the flexible kind with bumper corners, and cute cartoon kittens on the back.
Now, I'm not the most tech-savvy person out there; however, I do tend to forget my passwords on a regular basis, so I wasn't completely at a loss.  I knew how to do a hard-reset on the phone, no big deal on an Android where you can reload contacts from Google, but losing data is always a pain. I pulled out my laptop and logged into my Google account, then used the "find my device" feature to reset the password from my laptop.  It's cool. You can force a phone to ring, track down its location, or even erase your phone remotely.  I just reset the password, though.  Then I put away my laptop and unlocked the phone.
My inbox looked like I'd gotten spammed with about a thousand messages.
I rubbed my eyes, turned off the phone (which locks it), then half-jolted awake and unlocked it again, because now I was paranoid.  It unlocked.  I turned it off again, then pulled out the print novel I'd brought along in case my phone battery and backup failed, and started reading, using the printed plane ticket as a bookmark.
I read until it was time to line up. Then I read while the flight attendants checked everyone in. They scanned my paper ticket without comment.  Most people just held out their phone screens.
I checked the ticket eight or nine times for my seat number as I walked down the ramp from the gate, then again as I got onto the plane.
As I made my way down the aisle, I saw a kid, a teenaged girl, on her phone. It caught my eye for some reason, maybe only that I was stuck in place while people laboriously slid their rollerbags into the overhead compartments.  She had long, honey-brown hair with a painstaking zig-zag part, green eyes, and dark-brown eyebrows.  She was wearing a black hoodie and a v-necked, polka-dotted, black-and-white shirt.  She had her knees up on the seat behind her, and I thought, What a shithead.  She was giggling to herself, looking positively maniacal as both thumbs flew over the digital keyboard at the bottom of her phone screen.
She glanced at me, then went back to her phone.
I made my way back to the seat, sliding my bag under the seat in front of me and buckling myself in, then pulling out my phone to see what was up with my Gmail account.
I logged in.
The emails weren't for me. In fact the phone was set up completely differently than mine. The icon for Facebook was missing.  So were the ones for JoAnn's, Wells Fargo, and my Kindle reader.  The icons all looked like they were for games.
I looked up the email addressee, and there she was, caught by selfie: green eyes, honey-brown hair, dark eyebrows, that zig-zag part. She was even wearing the same shirt.
And I thought, Wasn't there a gangly teenager in front of me in line at security? Was it the same girl? It must have been.
I looked myself up on Facebook.
I was not entirely surprised to note that I had been posting some rather nasty things.  Criminally nasty. You should kill yourself, self-abort you fucking—I'll stop there. You get the point.
Had she grabbed my phone by accident or on purpose?  The model and case were the same. I had ordered my case on Amazon, so maybe that wasn't too much of a stretch. But how had we even reset our devices to the same PIN?  Childishly, I had reset mine to 6969. Okay, she must have, too.
But at the same time?
In an infinite universe, nothing is too much of a coincidence, I guess.
So…
One of the options on Google's "find my device" feature is that you can put a recovery message on the lock screen, something like, "If you find this phone, please call XXX-XXXX."  Or whatever.
I typed, "Surprise, I can see you! Guess who can unlock phones too?" as the recovery message and reset the phone.
Two minutes later came a yelp from the front of the plane.
The girl went from row to row, saying, "Have you seen my phone?  Have you seen my phone?" after the seatbelt light went off.  I shook my head like everyone else.
Later, I went to the bathroom and there it was, my phone, with the word PLEASE written in lipgloss on the mirror. Miraculously, no one had taken it.
I switched phones back.
But only after I'd changed the PIN again, and forwarded a few of the girl's more hateful memes to her mother.
THE END
Geeky gothics and other strange & wonderful fiction: sign up for the Wonderland Press newsletter here. Includes two tales of Doctor Rudolpho, a teenaged fortune-teller who has the Sight.  If you enjoyed today's story, please consider signing up!
You can find 2018's story-a-day project, Tales of the Normal, here, and 2017's story-a-day project, October Nights, here.