Please note: I avoided graphic depictions of child abuse!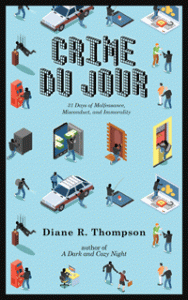 Crime du Jour: 31 Days of Malfeasance, Misconduct, and Immorality
One crime story per day, all the way through October. Ebook to be published Nov 1. This will be under my mystery/crime pen name, Diane R. Thompson!
Crime du Jour #6: Child Abuse
HOW MISS NANKERVIS FOUND A MOUSE
The townhouse on Cheyne Row was the sort of house that one did not suspect of large rats, it having a distinguished Chelsea address. However, since the first of October it had been plagued with scratching and skittering noises behind the upstairs wainscoting, and Miss Angelique Nankervis was beginning to suspect the house of infestation.
Miss Nankervis, a young woman of wealth and character if not an entirely impeccable history (having been raised in Jamaica), first noted the noise on October first, the same day that her neighbors across the street, near the famed historian and philosopher Thomas Carlyle's house, had some difficulty.
The difficulty involved a certain amount of womanish screaming of the name Aldrich, and a discreet amount of bustling by the servants from house to house. Miss Nankervis rang, and her man soon appeared. Mr. Parnell was new, and unused to her unusual ways, her unusual height, and her unusual appearance.  She had only just begun to set aside her veil in his presence, and reveal the burned, scarred features of her albino face. He seemed not to react adversely, but the real test would be one of his continued discretion.
"Mr. Parnell, whatever is the matter across the street?"
"Number three, miss, belonging to Mr. Woodbridge Thurston and his wife," Parnell said.  "One ought not to listen to gossip, but it seems as though the Thurstons have lost a son."
Miss Nankervis frowned at him. Parnell often stooped to euphemize.  "The son has died? Or has he been mislaid?"
Parnell coughed into his hand. "Mislaid, miss. His name is Aldrich."
"Let me know if you hear any further gossip on the matter. Or the son is returned."
"Yes, miss."
By the time the rats had come to Miss Nankervis's attention, several days had passed, and it was the sixth of October.  Miss Nankervis rang again.  "Mr. Parnell, have you heard the rats?"
"Yes, miss. But I didn't like to say."
"Mr. Parnell, I require that those about me present me with every sort of curious, inconvenient, or otherwise memorable occurrence.  Do I make myself clear? Now: the rats in the walls?"
"I have set out traps, but I have not caught a single rat. They're clever ones."
"Are you using poison?"
"Only just begun, miss."
"Remove the poison from the traps at once, and replace it with good bread and cheese," she said. "No crusts or mold. Perhaps a dish of fresh milk."
"Miss?"
"At once, Mr. Parnell.  I will brook no delay."
Soon the household gained an additional member: a cat. It quickly became evident that the cat was too lazy to make an effective hunter, and, in fact, it would howl if not fed.
Mr. Parnell inquired whether Miss Nankervis should like to get rid of the cat, named "Dundee," and obtain another, but she only said that Dundee would be sure to give perfect satisfaction, as long as Mr. Parnell baited the traps with good bread and fresh cheese, and was patient.
To which Mr. Parnell could only say, "Yes, miss."
The next few days found the cat pacing about the townhouse, searching every nook and cranny for something to eat, for he was forbidden any food which he did not himself find.
On the afternoon of the eighth, the cook, Mrs. Iriye, came to report. "The cat's not been fed, Miss Angelique, but it ain't pleased with being treated like a common mouser, no indeed! It soils everything in my kitchen, just to spite."
"I am sorry, Mrs. Iriye, but I ask that you be patient for a little longer."
Mrs. Iriye patted her hand. "Never fear, I have faith in your little ways."
Miss Nankervis smiled at her friend.  "And Mr. Parnell?"
"Putting out that good bread, you can see that it breaks his heart. But he ain't poisoned it, or otherwise disobeyed."
"Good. A day or two should see an end to this mystery, and to Mr. Parnell's upset."
On the next day, the ninth, Mr. Parnell reported that Dundee was nowhere to be found. Miss Nankervis told him not to put anything out in the mouse-traps until instructed otherwise.
That night, the house was awakened by the sound of Dundee yowling piteously.  Miss Nankervis waited until Mr. Parnell came to her door and knocked softly.
"Yes?"
"You said to tell you if anything unusual happened, miss. And it has.  The cat's screaming for food, as I'm sure you can hear."
"And?"
"…And he's nowhere to be seen."
Miss Nankervis had already wrapped herself in a black dressing-gown. "Then let us find him."
The cat was soon tracked to a second-story wall that closely butted against the neighbor's. The exterior walls of the townhouse were of brick, but within them were plaster and lath walls decorated with paper and wainscoting.
Miss Nankervis knocked upon the wall.  A distinctly hollow sound emerged.
"I thought there might be something secret about this room," she cried happily.  "Quickly, everyone—search for a hidden panel!"
The panel was soon found, behind a waist-high bookcase that revealed a purring cat and a small boy named Aldrich, who had been moving about with a broken leg and several other grievous injuries that caused him to drag one foot, thus causing the mysterious scratching. He had—rather miraculously—come in via the roof.
Aldrich soon found himself en route to Jamaica, in the care of Mrs. Iriye's nephew, Brantly James, along with Dundee, who had grown quite attached to the boy, in contrast to the poor boy's parents, who had not.
Mr. Parnell helped spread rumors that the Thurstons had invested in a great deal of money in a Singaporean house of ill repute, and the couple soon found itself disliked both by the wealthy and their servants, a difficult state to survive on Cheyne Row. Indeed, the glee with which Mr. Parnell carried out his instructions firmly ensured him a place in that unusual household, for years to come.
THE END
The characters in this story are from a series of historical crime capers about Smoke the Orphan and her mistress, Miss Nankervis. You can find the first one, How Smoke Got Out of the Chimneys, here.
Geeky gothics and other strange & wonderful fiction: sign up for the Wonderland Press newsletter here. Includes two tales of Doctor Rudolpho, a teenaged fortune-teller who has the Sight.  If you enjoyed today's story, please consider signing up!
You can find 2018's story-a-day project, Tales of the Normal, here, and 2017's story-a-day project, October Nights, here.