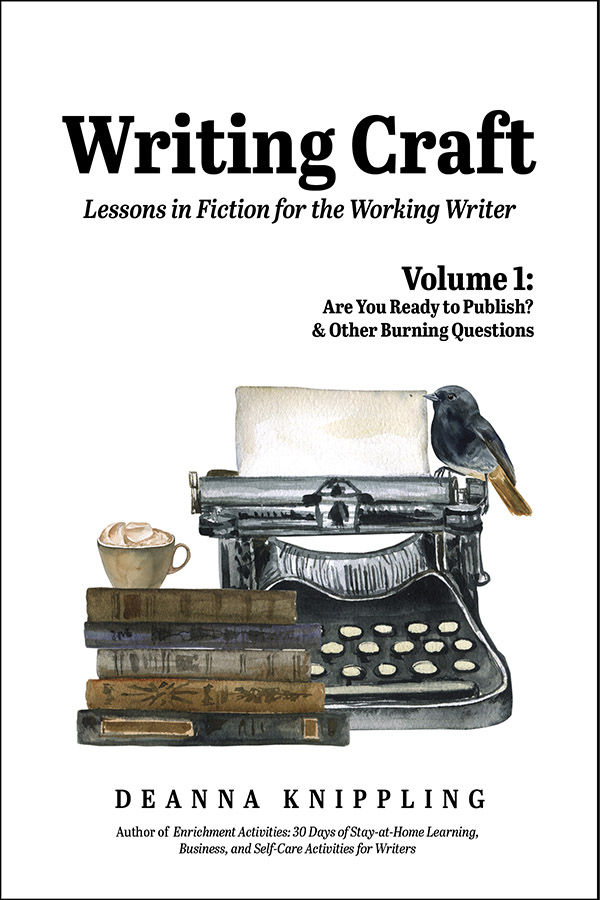 Are you ready to publish? Why is it so much harder to get published all of a sudden? What should you do if you get asked to do a freelance project on the side? How do you get any better when you already read all the "good" writing books?
What if you screw something up?
Sometimes when writers have writer's block, it's because they're struggling with the questions surrounding their writing, not with the writing itself.
This book is about getting your head clear so you can learn your craft without side issues derailing you and your career.
Writing Craft: Are You Ready to Publish? & Other Burning Questions is part of the Write Stuff Storybundle, ten works on the craft & business of writing fiction available for a limited time.
UPDATE! The Write Stuff Storybundle is over, but you can still find my book at the updated link below:
Everyone else who gave me answers got to have an interview! So I'm gonna "interview" myself, too. >.>
---
1. What type of writer is your book aimed toward?
My book is aimed toward intermediate writers, that is, people who feel like they've heard the information found in most books on the craft of writing, but who aren't ready to call themselves masters of the craft yet.
If you know what the "rules" are and have started to break them, you're probably an intermediate writer.
2. What problem does your book solve for those writers?
I wrote this book to help clear writers' heads so they can focus on their craft.
It's really easy for writers to get spun up about something and avoid writing because it brings up uncomfortable situations and associations. This book goes through the main issues that I experienced or that multiple other people experienced or asked me about.
3. Who do you consider your writing mentors?
Kris Rusch and Dean Smith are my main writing mentors. I go to their in-person classes whenever I can, and I've taken a ton of online classes of theirs, too. Good stuff.
I'm a huge fan of studying other people's work, though, so any writer who writes well is subject to getting fangirled by yours truly as I go through their work <3
On the copywriting side, I'm a big Gary Halbert fan. Studying his material felt like learning from a master con artist, and I'm a fan of that.
4. What else would you like readers to know about?
When you go from beginning writer to intermediate writer, there's a big jump in how difficult it is.
It can seem almost like you're being sabotaged, like other people are only succeeding because they know the right people.
That kind of thing does happen, but it's mostly about editors (and Amazon algorithms!) trying to sell more copies.
Generally, writers either quit writing or move into an intermediate stage, then stay there a long time. Learning how to truly please readers takes a while. That means you're likely to be competing against people who have been doing this longer than you, network better than you, and who have more skills at pleasing readers than you.
Keep at it! Study your craft, take your successes, and expect to get knocked on your butt every time you try to succeed at a bigger level.
Also, on my Patreon I post the draft versions of the subsequent Writing Craft books twice a month; I'm working through how to write opening sentences and sections at the moment. (The short version: prioritize elements that confirm the reader is reading the right genre.) If you're struggling with craft and don't mind my mad-scientist approach, check it out.
---
My bio:
DeAnna Knippling lives within easy driving distance of the soft white sands of the Florida Gulf, where she can be found on an old beach blanket reading science fiction, fantasy, horror, and geeky nonfiction on her waterproof e-reader. Join her at wonderlandpress.com, where she builds her mind-bending castles in the sky, or writing-craft.com where she investigates the foundations of the art and science of writing. Or check her out at Facebook, where she posts collections of stories that people wish would get written.
You can find me at:
This website!
Facebook: https://www.facebook.com/deanna.knippling
Twitter: https://twitter.com/dknippling