Ta-daaa!  This cover has now been branded 🙂  You can pick it up at Amazon, B&N, Kobo, Apple, or Smashwords.  First published at Silverthought Online.
In other news, Ray has approved "Guinea Pig Apocalypse" with minor changes.  I hope to get Haunted Empire up as an ebook this week, but we'll see – I'm also planning to turn it into a short print book.  Fingers crossed.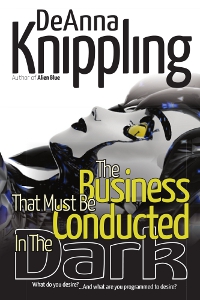 The Business that Must Be Conducted in the Dark
by DeAnna Knippling
Annalise thought she knew her programming: take care of Master Zorac in all ways. But especially, and most deliciously, sexually. Then Master Zorac runs away from their Mistress, and Annalise discovers that her programming is more complex than she ever knew.
Master Zorac has joined a group of men, rebelling against their Mistresses. And he's not afraid of using Annalise's programming to his own ends.