You can get it at these online retailers, with more to come: Amazon, B&N, Kobo, Apple, or Smashwords.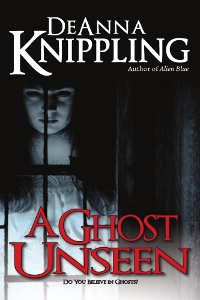 A Ghost Unseen
DeAnna Knippling
The realtor told her the house was haunted by the ghost of a four-year-old kid who'd drowned in the pool in the 1960s. But that's not why she bought the house: she'd bought it because the front room had a gorgeous bay window…and was painted the color of spattered blood. For years she's waited to see the ghost, but now she has to face the truth: she's never going to see it.
She's running out of time…and she's just going to have to act on faith.