Coming May 31…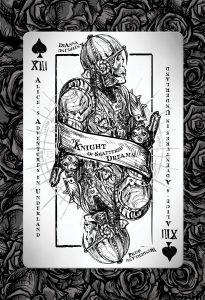 One thing was certain, that the zombies had everything to do with it…
Almost nine years have passed since that golden afternoon when gentleman zombie Charles Dodgson told Alice Liddell and her two sisters the story of Alice's Adventures in Underland, the story of how Alice goes to the land of the zombies and what she finds there–and how she escapes.
The real Alice is no longer a little girl, but a young woman on the cusp of adulthood, troubled by the restricted life ahead of her as an upper-class woman in Victorian Britain.  Soon she will have to look for a husband…whom she hopes to find in a younger son of Queen Victoria, her old friend and playmate, Prince Leopold.
Queen Victoria has other ideas.
Then another, more virulent outbreak of the zombie virus spreads across Britain, leaving nowhere untouched…with Alice's only hope being, once again, Mr. Dodgson and one of his wonderful stories, this time on the other side of a looking glass…
The Knight of Shattered Dreams finishes the story from book 1, Alice's Adventures in Underland: The Queen of Stilled Hearts.  For older teens and up.  Some gore and violence–not recommended for younger readers.