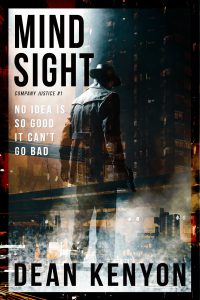 …or that at least didn't succeed as hoped.
Once upon a time, I wrote a book for a ghostwriting client.  It was one of those dream projects that paid pretty well and that I had a lot of freedom on.  The only requirement was that it have some kind of sci-fi element to it.
The client and I went back and forth on what the book would be like.  I told him I wanted to write something cyberpunk-ish about an element of technology that had gone horribly wrong.  But not so much a gadget or a gizmo that had gone wrong…how about a drug? He loved the idea, and we went forward with designing the tale of a detective investigating an empathy drug gone wrong.  The drug ends up causing permanent and debilitating brain damage to the users–it makes them so empathic that they have trouble defending themselves from bad people–which a serial killer with a strangely apt sense of empathy (but no mercy) takes advantage of.
The Giver was born.
The client loved the book.
And then, somewhere in the middle of writing book 2 in the series, his business died.
Normally, I take this kind of thing in stride.  However, I had put a lot of myself into this book.  I'm the kind of person that gets targeted by life's little sociopaths–or at least I was.  (I decided, not coincidentally, near the end of 2016 that it was time to stop suffering fools gladly.)  So when I heard this book would never see the light of day, well, I was disappointed, to put it mildly.
And broke, because suddenly I'd just lost my job working on book 2.
The client gave me a choice:
Take back the rights on book 1, etc., and write off all the money he owed me, or…get paid.
I took back the rights and decided to make something of what I'd written.
Here was my thought:
The book was designed to be published under a male pen name.
The POV character is male.
There were some sexist things I left in the text because I believed that the character would see the world that way, and I didn't want my (female) name to be a distraction because of that.
And I've always wondered:  would it be easier to make sales under a male pen name?  I've heard that trying to publish romances under a male pen name is excessively hard*; maybe trying to publish cyberpunk under a female name would be similarly so.
Dean Kenyon was born.
The book came together, and I still liked it, so I published it May 7th and set it up for five free days on Amazon to start with, hoping to generate a review or two.  I sent it out to this list, crossing my fingers.
The giveaway went great.  I had previously run two similar giveaways for books under my me-name (DeAnna Knippling) and a middle-grade pen name (De Kenyon).  Neither one made half of the numbers of the Dean Kenyon giveaway.
And then…crickets.
I've advertised this book as much as I do my bestseller, but…I can barely get any views.  There are no reviews on this book!  I can't get anywhere with it.
So, a month later, I'm just going to conclude that I can't get the answers I want about the male vs. female pen names without reviews to help assure readers that the book isn't complete crap.
I have to swallow my pride.
I wrote this book I really love.  It's quite the adventure, a lot of fun in my opinion.  But I need help getting reviews out.
I'm going to hit up everyone I know and ask them if they'd like a copy.  And I'm going to try to wrassle up some reviews.
You are, of course, under no obligation to read the book.  You are even under less obligation to like it.  And, seriously, no hard feelings if you don't review it.  (Although I will note that if you review it and hate it, it still helps me out, as strange as that might seem.)
But if you know someone who might be interested, I've got a free copy for them.  Just send them my way, at
publisher [at] wonderlandpress [dot] com
And I'll send them a review copy.  Or send them to the Instastafreebie link.
Thank you, and wish me luck 🙂
*Except for the redoubtable M.L. Buchman, who uses his initials.
…
The link to the free Instafreebie copy (multiple formats) is here.  You can buy a copy here, but it's only Amazon so far.
Mindsight:  Company Justice #1
No idea is so good it can't go bad.
Frank Mallory is a private detective working for a new type of detective agency: a well-organized one. Private Eyes, Inc., has the latest in data analysis, training techniques, cross-discipline integration, illicit back-door deals, and cynical programmers who don't care what they have to do as long as they don't lose their benefits.  PEI has it all covered.
The right mix of idealism and plausible deniability can work wonders.
But that doesn't mean that Frank's in the clear when he starts work on a case involving the new designer drug Mindsight.  Mindsight is a miracle drug.  It won't give you telepathy, but it comes close, triggering a wave of pure empathy that helps treat everything from domestic violence to schizophrenia.
The problem is, if you take too much of it, you'll understand someone else's point of view…all the way to death.
Of course a serial killer starts butchering Mindsight addicts.  As if nobody could see that coming.  All he has to do is ask nicely.  And maybe offer a little something the victim can't refuse.
The real twist is when one of his victims fights back…and takes down a cop, saying that he admitted to being the serial killer before he died.
Frank's hired to find solid, incontestable proof that the man, someone he used to work with, is actually the murderer, so a rich man's daughter, the purported victim, can walk free.
Seems straightforward, right?
Right.
Book 1 in the Company Justice series, starring Frank Mallory.
(Some violence, not much gore or strong language.  Some unpleasant empathy moments.)