tl;dr:  a) buy book and/or ask for free copy, b) review someplace, c) tell a friend, d) give me hugs.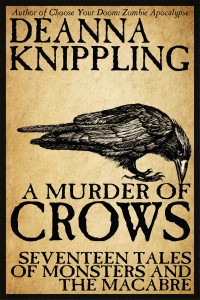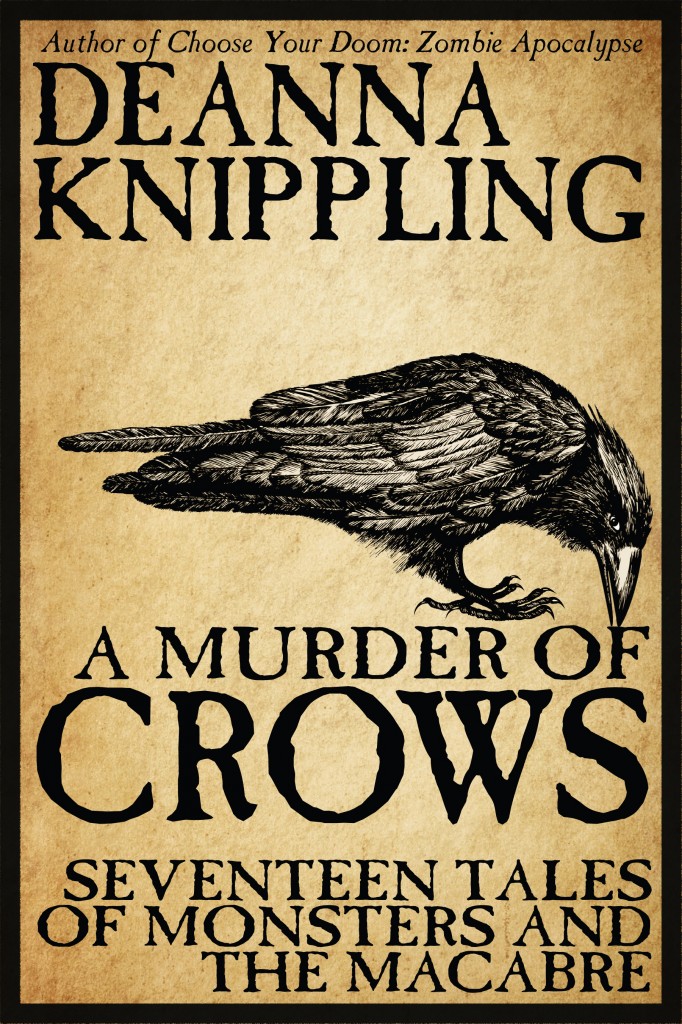 Today is the official release day for A Murder of Crows: Seventeen Tales of Monsters and the Macabre.
I am, of course, in panic mode, because I have a release-day checklist in which I do more than whisper a quiet announcement on Facebook and slink back into my hidey hole, as usual, so make snarky comments and post nerdy links.  The dreaded promotion phase of writing.  I think I know like two writers who enjoy promoting themselves.  The rest of us are terrified.
My goals:
1) Get the book onto a nice place on the horror sub-lists on Amazon during October (for example, the Ghosts sublist).
2) Gather reviews in preparation for running a big promotion later on, towards Christmas.
3) Not go batshit insane.
People keep reminding me that it's perfectly okay to ask other people for help achieving my goals.  I struggle with this, but it's on the list, so I have to do it.  Please note:  this is not an email to press complete strangers into being my book slaves (there's a thought), but for family, friends, and fellow authors exchanging favors.
So, if you would like to help me, here are some options:
1) Buy the book on Amazon today.  Even if you don't have a Kindle.  This costs $2.99.  My Midwestern brain insists that I mention that this is not required, but it would be a huge help.
[Note:  This goes to Goal #1.  The more people who buy the book in the first 30 days of a new Amazon release, the better it seems to look to their algorithms and the more visible they make me to complete strangers who happen to be looking for ghost stories for a while.]
2) Ask me for a free copy of the book.  I have formats set up for all major ereaders as well as on your computer.  If you have no intention of reading the book but want to pass it on to someone who miiiiiight want it like six years from now, I have no problem with that.  Ask away 🙂
3) Review the book at Amazon, Goodreads, LibraryThing, on your blog or other social media, on the back of a napkin, sealed up into a bottle and tossed into the ocean…
[Note: Anywhere you mention the book–or link to it–on the Internet helps brainwash Google and other search engines into making it just slightly more visible.]
4) Pass the word.  There's a local commercial that always ends up with, "If you like our service, tell a friend.  If you don't, tell me."  That's it exactly.
As far as social media goes, you may copy the picture of the cover off this blog and use it to help promote the book if you like (most social media give extra weight to posts with pictures attached, which is why you see so many dang cats).
Here are some thingies suitable for copying and pasting onto Twitter, Facebook, G+, or what have you:
Ghosts, monsters, and the macabre: A MURDER OF CROWS on sale for #Halloween http://www.amazon.com/Murder-Crows-Seventeen-Monsters-Macabre-ebook/dp/B00OC24PQ2/ #horror
It was we crows who stole your daughter… A MURDER OF CROWS: 17 TALES OF MONSTERS AND THE MACABRE http://www.amazon.com/Murder-Crows-Seventeen-Monsters-Macabre-ebook/dp/B00OC24PQ2/
Mothers, daughters, & other monsters. 17 short stories of ghosts, dark fantasy, and horror. A MURDER OF CROWS http://www.amazon.com/Murder-Crows-Seventeen-Monsters-Macabre-ebook/dp/B00OC24PQ2/
5) Sign up for my newsletter.  
[Note: Social media stuff…it's kind of random whether you actually see what I post or not.  A newsletter will end up in your email inbox, where you can read it or not, as you choose, rather than as Facebook chooses.  I send at most one newsletter a month except this month, in which I will be sending an extra one out today or tomorrow with the actual release announcement and (basically) the same information as is on this blog.]
6) Chat with me.  I will listen to you complain about/praise the book, I will take typo oopsies if you catch any in the book, I will take invitations to write on your blog, I will talk at your book group, I will bring free copies of books to libraries, I will show up to speak for your writer group on pretty much any topic.  Unless I gotta travel out of state, and then…maybe.  If you have a favor to ask, ask it 🙂  Because trading favors is what makes the writing world go 'round.
7) Give me hugs.  I am not the huggiest of people but I'm going to hit this wall of exhaustion about five o'clock today and start crying about what a terrible writer/person I am, more because I'm just tired than anything else.  I intend to go to the PPW writer's night tonight for support, but we'll see.
Thank you 🙂  I couldn't do this without all of you.  I owe you big time.