New short story release, a horror/suspense tale in the vein of Twilight Zone…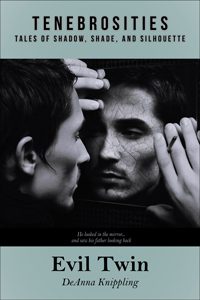 Universal Buy Link | Goodreads
A haunting tale of a monster who lived inside mirrors, and the ghost he left behind when he died…
What would you do to get rid of an abusive ghost?
When Michael's father died, he left behind a grown-up family shattered by years of his broken, abusive, alcoholic behavior—and a legion of adoring fans who hung on every word of his stories.
They called him creative. But the truth was that Michael's father had the ability to violate the boundary between one side of the mirror and the other, traveling between reflections and watching, and interfering, with other people's private lives until there was little of the man left—only a monster.
Now the man is dead. But part of the monster has been left behind…
…
Evil Twin
One last time of cleaning up after you, Dad.
I'd slept downstairs on the couch, expecting him to get up and stumble downstairs, looking for beer or bourbon or something to piss in, but his body was still in the shower stall. His hip, covered with old blue jeans, lay against the glass door, pressed flat against the soap scum. His head lay against the fiberglass wall, curly white-gold hair surrounding his head like a halo. His pants bulged, filled but fortunately not overrunning with shit. I was tempted to turn the shower on and hose him down, one last time. You're a drunk, you've always been a drunk, you died a drunk, you even haunted me drunk. He still wore his professorial corduroy jacket with leather patches at the elbows, real as the number on the scale after Thanksgiving. At least he hadn't haunted me in the leisure suit Mom had him buried in.
I shoved the double-paned shower doors open so I could get at his legs. His right boot caught against the glass, then suddenly unstuck itself and lumped onto the rug. I grabbed him by the ankle and pulled until his head thumped onto the shower floor, then lifted his other leg and turned his hips around until he was an L-shape with his legs out on the tiles.
If he'd been alive, I would have worried about tearing the skin under his shirt, or on his face. A fact learned from my long history of cleaning up after my father: cheekbones get caught on the damnedest things. Ridges between rooms, uneven tiles, rubber floor mats. I used to always put a pillow under his head when I had to drag him out of places by myself, one of those u-shaped corduroy travel pillows. Kept it in a Ziploc bag under the passenger seat in the car, so the car wouldn't smell like puke.
I pulled him out of the shower stall onto the rug, being careful not to look toward the medicine cabinet, and checked that he wasn't leaving a trail. He was; the cup had runneth over. I rolled both Dad and the rug onto a fitted sheet from the closet that I couldn't remember seeing lately on our bed. I closed my eyes as I passed the hall mirror, then covered it with a sheet on the way back.
Then I called Joanna and got serious about dragging him out of the house…
…
Read more here!