Now available at Amazon, B&N, Kobo, Smashwords, Gumroad, and more.  As usual, the upload to Apple via indirect channels is taking a while.  My apologies.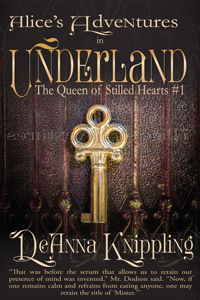 "That was before the serum that allows us to retain our presence of mind was invented, my dear Miss Alice," Mr. Dodgson said, clearing his throat.  "Now, if one remains calm and refrains from eating anyone, one may retain the title of 'Mister.'"
It is with fear and panic that I announce that the first part of the Alice Liddell + Zombies book is up.  I'm making it into a serial, as this seems to be the only way I can get it out the door:  it's too terrifying to edit it all in one go, which seems to be a terrible reason to do it this way, but there you go.
I'm calling it Alice's Adventures in Underland.  Book one, which follows Miss Liddell through the telling of Alice's Adventures in Wonderland, is called The Queen of Stilled Hearts, although its name is…
[coughs]
Anyway, the books are written, I'm editing them in chunks, and I feel like I should apologize profusely for releasing this into the world:  a book intended to balance tea and zombies.
I am setting up a subscription plan but the details are just slightly beyond my ability to explain them tonight.  Rest assured that if you buy the ebook now and send me a copy of the receipt, I'll send you a coupon for the same amount toward the subscription, if you so desire (limited time offer, step right up!).
Here's the back cover blurb:
With the invention of a serum that prevents most people infected with the zombie sickness from becoming raving cannibals, Victorian society finds itself in need of more standards:  to separate the infected from the whole, to  control when and how the infected can come into contact with the pure, to establish legal contracts, precedence, employment, and more, with regards to the walking dead.
The very backbone of the British Empire is its standards.
The middle daughter of the Dean of Christ Church in Oxford, Alice Liddell, finds a certain lack of charm in the standards she must follow, with increasing strictness, day after day.  Wild and rebellious, she battles her father's cold discipline, her mother's striving to hide her middle-class origins, and the hollow madness of the world around her, in which the teetering Empire desperately pretends that nothing is, in fact, the matter.
Enter Mr. Charles Dodgson:  one of the chaste Dons of Oxford, married to his mathematics.  He charms Alice and her sisters, often taking them on walks and boat rides (chaperoned, of course), and telling them jokes and stories.  He is twenty-four when he first meets them.
And he is dead.
Turned in a tragic accident at Rugby, Charles uses the serum to keep him from the ordinary sort of madness that affects zombies.
But it doesn't affect the elegant madness of his brain.
And one day, as he sees Alice struggle against the chains that constrict her, chains so similar to his own…
…one of his playful stories becomes something more.
Episode 1:  In which Alice and her sisters meet a gentleman zombie, and have their pictures taken while pretending to be dead.
 —
An sample may be obtained (fingers crossed) at any of the links given above.  If you happen to be interested in a free review copy, please do let me know.