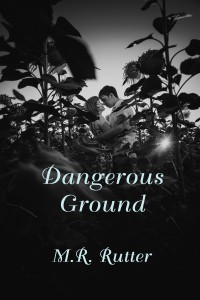 Amazon | Publisher | Goodreads
Author Facebook | Author Twitter | Author Instagram
Welcome to fellow author Megan Rutter, who has just released the romantic suspense novel Dangerous Grounds (which I've read and liked and recommend).  She kindly agreed to answer some questions for me.
1.  First, you have to tell me about you and Minnesota.  What's your relationship with the state?
My relationship with Minnesota is COMPLICATED, but loving.
I moved here sight unseen from Colorado in 1998.
My husband, who at the time was just a friend that I met online, offered me an internship on his sustainable agriculture research and development farm the summer between my sophomore and junior year of college.  I figured I'd take the summer doing something completely different to decide if I really wanted to stay in my field of study (forensic anthropology and ancient history) or move to an easier major.
I'd spent my first years of college and my last 2 years of high school studying under Dr. Michael Charney who was a professor emeritus of forensic anthropology. He passed away and I was devastated.
I took the summer internship, fell in love with my husband and his farm, and he urged me to continue my studies.
I spent a long time traveling out of the state, chasing my education, but I kept coming back.
Every time I left Minnesota I found myself missing it. I loved theseasons, even the winter, and the people. I missed the peace of the farm.
So when I decided to pack away my traveling shoes, this is where I planted myself. I haven't left the state for more than a vacation in the last 5 years and I LOVE it!
2.  Did you come from a large family like the one in the book?
I did not come from a large family.  I have one older brother and older
sister.
My mom comes from a large family (9 kids), and my dad comes from a largish family (4 kids).
However I do have some cousins that are part of large families and I find their dynamics fascinating.
Even funnier yet, is that I don't have a large family myself. I only have 1 child and have no plans to have more no matter how much she begs me. 😉 However around here, in southeast Minnesota, large farm families are common. Most people have 3-5 kids, and the Amish have tons! The largest Amish family in the area has 24 kids.  Wow!
When I created my family, the Olaffsen's, I though it would be hilarious if they had a pack of girls. The jokes would be endless.
3.  What's your background in forensics?  It sounds like you followed a twisted road to get to your expertise as a writer.
First you must understand that I have always wanted to write.  I have written even when it seemed like I would never be a writer.
But I'm also intelligent and a realist and I know how hard it is to become an author. Also I started my journey to publishing over a decade ago, when independently publisher authors were not valued in the way they should have been, and e books were still a new thing. So it was a long, hard road with a few 50 car pile-ups on it.
So while I was that kid always writing in my journal during recess and study hall, I wasn't the kid causing a scene by emoting all over the place with a crowd of sighing followers who announced that they were going to be a WRITER. I was in a corner either studying or writing.  Kinda boring actually. 😉
So as a realist I went to college and studied. I studied a LOT!
I have 3 major degrees and a boat load of minors.
When I was in high school, I was placed on advanced track, which is where I was taking mostly college courses by my junior/senior years. I met Dr. Charney in his skull lab (officially the Human Identification Laboratory) in the basement of one of the buildings my mom cleaned while she was working her way through college.  It was literally a 40 x 40 foot room filled with shelves that were filled to capacity with boxes of human skeletal remains. I was fascinated. And Dr. Charney thought I was the most interesting kid he had ever met. He agreed to teach me.
He died and I didn't know what to do. As far as I knew he was the only one who studied skeletons the way I wanted to study them.
So I enrolled at Luther College, which had decent physical anthropology and ancient history departments. My ancient history advisor wrote me a recommendation letter to Dr. Snow at the university of Oklahoma. I studied for a semester with Dr. Clyde Snow and then moved from undergraduate to graduate school at the University of Minnesota, CSU Chico, Northwestern and the College of St. Mary's at Oxford, working on my specialization of identifying and reconstructing ancient remains.
Remember this was before forensic anthropology was a major field of study in more than a few universities. Most people thought we were insane to study it.  So a lot of us had to move around piecing our education together by finding the professors who were experts in the field and studying with them for a semester or two before being sent to the next.
I primarily worked out of the biological science school at the U in Minnesota, but I took every fellowship I could get. It was a LOT of traveling. Especially during grad school after I was certified as a lab assistant, I went where my advisor sent me.
Yes this included New York right after 9-11, and some pretty nasty mass grave sites in Eastern Europe, the Middle East and Africa.
I did get a few internships working on ancient bodies, but I sat down one day and did the math. For every bog body, mummy or ancient skeleton I had the horn of studying I reconstructed 25-30 murder victims. It was depressing.
I did get a few amusing cases like the Moose-icide as my daughter calls it, and the call out to the subdivision built on an old hog farm.  It's really hard to convince people that bones are truly animal when they're certain they have stumbled onto a serial killer's lair. Trust me. Not kidding here. Even the antlers on the moose wasn't enough for some people. My mind is still boggling about that one. Yes it will appear in a book some day.
I had a daughter and realized that I would be spending my life putting dead children back together, because without my PhD I wouldn't get into the research institutes that really work on ancient remains. Once again hubby came to the rescue. I felt that I had spent so much time and money learning my field I should stay in it. He knew I wasn't completely happy even though I was still fascinated. He knew I still wrote stories in my spare time as a way to stay sane.
One night he sat down with my computer and read them.
The next morning he bought me my first ticket to a writer's conference and a plane ticket. A month later he drove me to the airport and literally kicked me out of the car and drove off. I had no choice but to get on the plane.
It took one writer's conference, but I was hooked. I would be an author one day.
Now I'm a very well educated author, who really knows how to hide a body and make forensics interesting in my books. And yes… Many of the strange stories in my books are real. Like the cat and the stoned cow. Because face it, reality is often stranger than fiction. 😉
4. Dangerous Ground is a very sex-positive book.  Did you deliberately include those elements, or did it happen naturally in your writing? (Note:  I had to rewrite this question like five times to get rid of inadvertent innuendos.)
(Ok I had to write this answer a few times also. You put my mind in the
gutter! Mwahaha!)
I love the term "sex positive". It makes me very happy.
I'm pretty sure those elements happened naturally.
I'm a sex positive person, raised by an ex-hippy with an older sister.
Trust me we talked the "sex talk" thoroughly growing up.  Actually I think I know more about my sister's plumbing than her husband does.  😉
I also talk openly about sex with my daughter who is going through puberty right now. Which according to her is the most awful thing to ever have to face.  I feel it's better to be proactive and give her the correct information that to have her develop fears and insecurities because people are filling her head with "sex is taboo and only enjoyable for guys" nonsense.
I feel strongly that female sexuality is a natural thing, and we should embrace our needs and desires.  There should be no shame in it. Sex makes us happy! Sex between consensual adults is an amazing, fun, happy, and beautiful thing. It should be celebrated as one of the best parts of being human.
So when I wrote about sisters, of course they're going to talk about sex. And I wanted to write about it in a way that would make my readers feel positive about their own sexual needs. Because face it, I write romance and sex is part of love. Also I spent most of my adult life facing the worst humanity can do to each other.  I literally had to stare into the abyss of human cruelty.
Trust me, you don't want to see those things.
I saw things that made me question if people are capable of kindness. So if I can spread a little positivity about our natural wants and desires, then I will. Because people are good and loving. Sex is a part of that.
Have sex. Enjoy it! Just remember consent is key.
5.  What are the next projects coming up for you?
I'm currently working on 2 novels.
I hope to have the second draft of Plain Murder done by the end of the month and to my editor and beta readers.
Plain Murder is Marilyn's story.  It's the sequel to Dangerous Ground. Yes the sister who doesn't have a filter between mouth and brain. The   strong farmer, who doubts her abilities, but really understands people. Marilyn is faced with the murder of a friend. She must realize that she holds the key to finding justice.
Plus she gets to tell a stuffy Marine for an old blue blooded family how to remove the stick up his butt before she does it just to beat him over the head with it. Yeah, Marilyn is vocal about falling in love with the wrong guy.  😉
I'm also working on a dark romantic suspense from a new series, set in the near future. It's still in rough draft form, but trust me you might not recognize the world you thought you knew. 😉
and last but not least…
6.  Is there any note you'd like to leave readers on (hint: this is the additional promo question):
Please look for my book on Amazon or through my publisher, Solstice Publishing. It's the result of a long, meandering and sometimes dark path to becoming an author.
I hope you enjoy it, and if you have questions, you can find me most days
on social media.  I try to be approachable.
…
M.R. Rutter was born in the mountains of Colorado to an ex-hippy and former Marine. She spent much of her childhood on her grandparents ranch near Leadville CO.
She studied forensic anthropology and ancient history in college and started her professional life as an assistant to her advisors while working on her coursework and thesis. After years of teaching other professors' classes and putting murdered children back together rather than working on her focus, ancient remains, Megan left the field to pursue a career as a writer.
She now lives and works on a sustainable agriculture research farm in Minnesota with her husband, daughter and a menagerie of animals where she is a full time farmer, research assistant, mother and writer.
Happily for M. R. she can still fill her novels with mummies, skeletons and corpses.