Now on sale at Smashwords, Barnes & Noble, Amazon, and new!  Omnilit.
Try to put it all back together using the coupon code VV54J.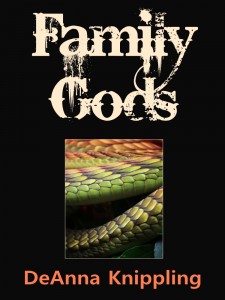 Family Gods
by DeAnna Knippling
The family god…the family curse.
A young soldier returns from a war to bury his mother, only to find that his wife has betrayed him.  His rage doesn't come from his wife's betrayal, but from the family god, a god of murder, fire, and anger that has haunted them for generations…and killed his mother.
"Aunt George," I said. "I tried to kill my wife and baby girl yesterday."

She reached across to the glove box and pulled out two cigars. Her eyes didn't leave the road as she unwrapped one and handed me the other.

"Here. He likes the smoke."

"Who?"

She bit the end off her cigar and spat it on the floor. "I'll tell you later."

"What about Serenity?"  My daughter, in the back seat.

"So open a window. There are worse things that could happen to her than a little cigar smoke."

I lit Aunt George's cigar, then mine. My lungs released after months of holding back half a breath. I leaned the seat back. Cornfields flashed by outside the window, countless fence posts, rolling hills decorated with black cows. I rolled down the window. The air smelled like coffee and manure.

"Tell me about it," she said.
This story came out of a couple of different things that happened to people I know, from stories of soldiers returning home from Iraq and Afghanistan and not being able to cope anymore (and no wonder), and from the idea that there's a "family personality," a personality that shows up from generation to generation in families.  I know my family has several, which probably explains my mental problems.  To some degree.