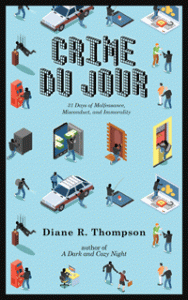 Crime du Jour: 31 Days of Malfeasance, Misconduct, and Immorality
One crime story per day, all the way through October. Ebook to be published Nov 1. This will be under my mystery/crime pen name, Diane R. Thompson!
Crime du Jour #28: Tax Evasion
HONESTY IS THE BEST POLICY
I long since discovered that I cannot live the life of an innocent man. Instead I have tried to live the life of an honest one.  After high school, I went to work as an errand-boy for a life insurance company, National Life & Trust. They liked me well enough, and promoted me to sales agent, a career at which I was moderately, but not extravagantly, successful.
My first fraud case was that of Anthony Lombardi.
When a kid starts out as an errand boy at National Life & Trust, he's tested. For example, two agents will both claim they've sold a policy to the same client. It's clear that there's something wrong with the situation. One of the agents is the boy's "special" mentor. The way the boy handles the situation marks him.
Conspiracy and dishonesty are complications that all life-insurance agents should avoid.  That's what Mr. Roberts, the president of the company always said, and I agree with him.
Anthony Lombardi was a self-employed accountant, age 63, married to Veronica Lombardi, age 58, living in Rhode Island. One of Lombardi's clients was Louis Andreozzi, the owner of a profitable groundskeeping company with possible ties to the mob. We had a saying at National Life & Trust: it's not the crime that gets you, it's the cleanup.  Mr. Lombardi was one of the first people I ever sold a policy to.  The other agents complimented me on my success, but conversation would fall suspiciously short whenever his name came up.
Several years passed.
Mr. Andreozzi was arrested and charged with tax evasion and racketeering.
One day, Mr. Roberts called me into his office to chat. "So, Mr. O'Neil.  Tell me about your cases." Naturally, the subject of Mr. Andreozzi came up.
I told Mr. Roberts about the hush that fell whenever the case was mentioned. "I'm not sure what will come of it, Mr. Roberts, but I will do my best to handle the situation with integrity and good judgment."
Mr. Roberts shook my hand when he dismissed me, but I wasn't sure that I'd deserved it—yet.
When the other shoe dropped, it fell so strangely I almost missed it.
Mr. Lombardi, as expected, was arrested for aiding and abetting his client, Mr. Andreozzi, in evading the payment of his taxes. In case of such an eventuality, I had looked up the details of his policy.  The policy would be paid to Mrs. Lombardi if Mr. Lombardi died in prison, as long as he didn't commit suicide or benefit financially from his crime.
Mr. Lombardi was released on bail.  (A high amount was set for Mr. Andreozzi's bail, and he remained in prison.)  The night before Mr. Lombardi was to return to court, he drove off an embankment into the Scituate Reservoir and drowned.
The question was: was it an accident, murder, or had he killed himself? Was National Life & Trust required to pay out the policy, or wasn't it?
The coroner seemed to be of the opinion that Lombardi's death was suicide.
National Life & Trust had several investigators especially trained to look into such matters, but, as a rule, the agent who had sold the policy accompanied the investigator on his investigations.
The investigator's name was John Madeiros. He had been my mentor when I had been but an errand boy, and had been promoted to investigator the same time I'd made agent. We went to the morgue in Providence where Mr. Lombardi's body was being held pending identification.  The widow, Mrs. Lombardi, had fainted when she had been given the news, and had hit her head. Most of Mr. Lombardi's family did not live in the United States, and his employer, Mr. Andreozzi, was obviously not available.
As we were waiting for someone who could perform the official identification, in walked Mr. Lombardi.
He was greeted with surprise, as you might imagine.  He was shown into the room where "his" body was being kept.  He took one look at it, shook his head, and said, "Nope, that ain't me. Now, if you'll excuse me, I got a trial to go to."
He never arrived.
Even my mentor was puzzled by the case. If Mr. Lombardi wished to fake his own death, why reappear to identify the body?  If it was a simple case of mistaken identity, why not take advantage of the situation to simply disappear? Or was the second man the imposter?  If so, who had sent him, and how had the disguise been made so convincing? I had spoken to Mr. Lombardi during the sale of his policy, and recognized him by appearance as well as by voice.
John offered to let me avoid the autopsy of the dead man—whoever he was—but I stuck it out. Afterward, we went to the widow's home for an interview. She seemed remarkably well. My mentor did the interviewing, while I wandered the house, searching for something.
I soon found it.
And that's how Mr. Andreozzi got off charges of tax evasion: Mr. and Mrs. Lombardi had cooked up a scheme to launder money for the Mafia without Mr. Lombardi's knowledge, stripped the business profits clean when Mr. Andreozzi became suspicious, and arranged to flee to South America. A clever plan.
But they had tried to take it one step too far.
Mrs. Lombardi was arrested at home, Mr. Lombardi was stopped before boarding an international flight out of San Francisco, and both went to prison for first-degree, premeditated murder, as well as multiple other charges. National Life & Trust might have argued that Mr. Lombardi's policy was invalid, but instead earmarked the money for charity upon the resolution of Mr. Lombardi's estate, or the cessation of monthly payments—whichever came first.
When the coroner had hinted that Mr. Lombardi's death might be a suicide, he had put the life-insurance policy at stake, and Mr. Lombardi's conveniently-invited-to-visit-America twin brother suddenly became an inconvenience.
Mrs. Lombardi had missed taking down a photo of the twin brothers from the old country, you see.
THE END
Geeky gothics and other strange & wonderful fiction: sign up for the Wonderland Press newsletter here. Includes two tales of Doctor Rudolpho, a teenaged fortune-teller who has the Sight.  If you enjoyed today's story, please consider signing up!
You can find 2018's story-a-day project, Tales of the Normal, here, and 2017's story-a-day project, October Nights, here.