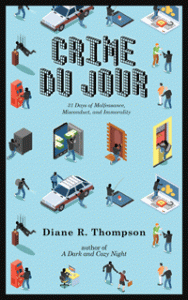 Crime du Jour: 31 Days of Malfeasance, Misconduct, and Immorality
One crime story per day, all the way through October. Ebook to be published Nov 1. This will be under my mystery/crime pen name, Diane R. Thompson!
Crime du Jour #27: Shoplifting
GOOD LUCK PIG GLUCKSSCHWEIN
SILVER ANTIQUE CHARM
LUCKY BRACELET PROTECTION SPELL
Condition: New, handmade
Volume Pricing:
1: $39.99 (each)
2+: $35.99 (10% off each)
10 available
279 sold / See Feedback
Shipping:
SHIPS FROM UNITED STATES
No Returns
99 watchers
FREE Standard Shipping / See details
   Ships to: Worldwide
Delivery:
Estimated on or before Nov 6
Ships today if paid with 16 hours 5 minutes Details
Payments:
PayPal—Visa—MasterCard—American Express—Discover
Returns:
Seller does not accept returns See details
…
Item Specifics:
Condition: New without tags: A brand-new, unused, and unworn item (including handmade items) that is not in the original packaging and/or does not have the original tags attached.
Color: Silver
Metal: Silver Plated
Brand: Unbranded
UPC: Does not apply
Metal purity: German silver
Style: Chain
Length (inches): 8.5"
Theme: Luck
Every charm comes with a FREE gift!
I am a practitioner of the magical arts, and I have performed a ritual over each silver Glücksschwein charm bracelet, imbuing it with positive energy. A Glücksschwein, or "good-luck pig," is a traditional German symbol of good luck, and many Germans of all ages carry them!
Along with each Glücksschwein bracelet comes an extra charm, a tiny handcuff charm! Just clip the handcuff charm to your Glücksschwein bracelet, and, if you're ever in trouble with the law, twist the handcuffs to snap the handcuff attaching it to your bracelet, drop it somewhere it won't be found, and you'll receive extra good luck! If your handcuff charm falls off, that mean it has already…
!!!PROTECTED YOU!!!
You can order other Glücksschwein items at my store, including necklaces, keychains, cell phone charms, and more! I also carry extra handcuff charms for purchase in case yours falls off!
WINK WINK 😉
Please send me a message if you would like a CUSTOM RITUAL for your charm!
!!!Please note!!!
All charms have a small LUCK symbol scratched in the back!! Your charm is not damaged!!! Just lucky!!!!!
Specifications:
Silver Pig Charm
Length: 7.5", extension 1"
Lock: Lobster
***approximate measurement***
Shipping & Return:
Free shipping to all US addresses (please go to Shipping and payments tab for more details)
NO RETURNS ACCEPTED
Your Glücksschwein charm will do its best, but some situations are more than even a Glücksschwein can handle! No returns accepted!  It is not fair to use the luck on a Glücksschwein charm, then try to pass off a used charm to someone else!
No luck is guaranteed! Sometimes the stars just have it in for you.  Your Glücksschwein tried…but sometimes even the best spells can't do what you need them to do!
!!!FOR ENTERTAINMENT PURPOSES ONLY!!!
Feedback is very important. I strive for 5-star service. I will do whatever I can to satisfy my buyers! Please contact me if you need to change your luck spell…I will see what I can do!  Please contact me about any problems before leaving negative feedback!!!
Armstrong Jewelry has been doing business since 2001. I am located in downtown Los Angeles.  You can contact me for lots of different charms, bracelets, palm and tarot readings including SOULMATE readings, PSYCHIC HEALINGS, and more!  If you come to the store in person, you can ALWAYS pick up a free handcuff charm, or recharge the spell on your Glücksschwein!!!
!!!!!!!!!!!!!!!THANK YOU!!!!!!!!!!!!!!!!
…
Ratings and Reviews:
4.9
48 product ratings
Most Relevant Reviews:
Good luck pig kept the real pigs off my back as I did a walkout with over $500 of electronics stuffed down my sweatpants, lol. Didn't even have to snap my CUFFS.
—edyilope-2
Chain broke first day I put it on, attached it back together with both ends of cuff charm, cuff charm broke while I was in changing room. Got a bad feeling, put $$$ yoga pants back on hanger and walked out. Stopped by store dick but I was CLEAN. Listen 2UR CHARM!
—alexpursesco
Six people, six lucky pig charms, six stores, six hours, SIX THOUSAND DOLLARS merch. Good planning or good luck!?! EXTRA LUCK if you pay for the charm using the buy it once, return it twice trick.
—richrichrich777
My credit card LOVES my Armstrong lucky pig bracelet!!!
—lizangel2003
I got arrested in 2012 wearing FIRST lucky pig bracelet, grocery store in my hometown. I was broke and it was my first time, lol. I got off with a warning, cop didn't even write my name down, on my way home he bought me food at a gas station. I cried and said I would never do it again, only thing I did right. I wasn't even wearing a jacket, lol. Cuff charm even fell off in cop car, I kicked it under the mat so the cop wouldn't see it.
Five years pass, it's 2017, my time had come. I'm in a porn shop, I get cocky, try to steal some magazines.  TIP: NEVER STEAL FROM A PORN STORE.  Much heavier security than the big box stores, lol.  The clerk who busted me sees the charm and starts laughing so hard he's crying, tears thru his mascara. He shows me his keychain, he's got a charm too!  We both laugh.  He let me go after I gave him my handcuff charm. We dated and the handcuff charm broke the day we broke up, and I went to Armstrong's to get Madame Armstrong to pick up a new charm and get a new spell put on mine. Like she says, some situations are more than even a lucky pig can handle.
2019, same bracelet, about a dozen different cuff charms later. I'm in the hospital for cancer and they say I have six months. No more boosting for me, it's the end—or is it? Chain breaks, suddenly I'm in remission. Lucky pig boosted me out of the back seat of Death's cop car, lol.  Got chain replaced on old bracelet, buying new bracelet for nephew. Happy boosting!
—divela_69
THE END
Geeky gothics and other strange & wonderful fiction: sign up for the Wonderland Press newsletter here. Includes two tales of Doctor Rudolpho, a teenaged fortune-teller who has the Sight.  If you enjoyed today's story, please consider signing up!
You can find 2018's story-a-day project, Tales of the Normal, here, and 2017's story-a-day project, October Nights, here.