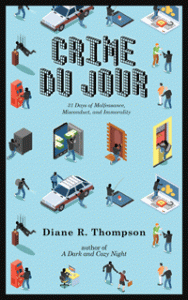 Crime du Jour: 31 Days of Malfeasance, Misconduct, and Immorality
One crime story per day, all the way through October. Ebook to be published Nov 1. This will be under my mystery/crime pen name, Diane R. Thompson!
Crime du Jour #23: Prostitution
TWO SISTERS ALONG BASIN STREET, STORYVILLE, NEW ORLEANS
Sadie Broussard was one of the girls working Mahogany Hall, a famous house in New Orleans run by Lulu White. This was the days of Storyville, the red-light district down by the Vieux Carré. Sadie had a long face like a grayhound's, fine dark hair, and arresting eyes, the old French sort of face which is, by turns, cruel and beautiful. When she was in a high mood, she wore a thin black ribbon wrapped around her neck and tied behind, so the ends lay down the track of her spine. Lulu always told Sadie she would be found dead in a canal some day: Sadie was the kind of girl who was made for trouble.
One day a nun walking along Basin Street, likely on her way to the St. Louis Cemetery No. 1, saw Sadie at the third-floor balcony. Sadie was wearing a lace slip with one shoulder down, decently covered, and waving at the traffic along the street. The nun was wearing a habit like a racehorse's blinkers and her mouth was soft and bowed, like a spoiled girl's. When the nun turned her eyes up to Sadie's, she shuddered and clutched at a crucifix lying upon a thin black ribbon upon her chest, giving a little gasp that echoed along the street.
The woman took something from within her dark clothing, and cast it at the bottom of Lulu's long marble stairs. Then she slipped off with mincing steps and was soon out of sight.
Sadie slunk downstairs, throwing a wrap over her slip and putting on a pair of leather gentleman's boots at the door, large enough that she could slip her feet in without tying them.
It was early, before noon, and she lifted her chin high as she descended. At the bottom of the stairs she found a tooled wallet the size of a cigarette case. Sadie fled to her room, which had a flowered rug on the floor, dark flowered wallpaper, and flowers carved in her dresser, mirror-frame, and Empire-style bed: and a tiny, dim window with colored flowers in the upper panes, too pretty to break and too small to climb through.
By the dim light of the bubbled glass, Sadie looked inside the wallet. It held an old photograph of two women in prim Victorian dresses and veiled hats. One woman's veil was pulled back. She wore a thick ribbon around her neck, which was bruised. She faced directly toward the camera, and was perfectly clear. The other, turned toward the first woman and holding her stiff hand, was slightly blurred. In old photographs, only the dead are perfectly clear.
The dead woman had Sadie's face, the live woman had the nun's.
Sadie left her wrap draped over the end of the bed and went back to the third-floor parlor. The light was better there. Another girl, Chloe Sonnier, was sunning herself and drinking café au lait at the little wrought-iron table.
"What have you got there?" Chloe asked.
Sadie showed it to her, without comment.
Chloe gave a little scream and dropped the wallet on the table, crossing herself. "Where did you get that unholy thing?"
Sadie laughed and related the morning's little tale.
"Whatever does it mean?"
Sadie shrugged. "That my double had her throat cut, and the other girl became a nun because of it, what else?"
Chloe crossed herself again, and went back into the house, leaving her café au lait behind.
Sadie leaned back against the wall of the house, holding the café in one hand and the memento mori in the other. Now she would hold it at arm's length. Now she would bring it close to her face, giving the photograph a squint.
Her double, she decided, had also been the kind of girl who was made for trouble, and had been killed over a man. There had been a jealous spat, a straight razor, and—why not?—a luscious opera singer that both of them wanted. The other woman in the photograph was the good sister, the one who had been left behind. She had loved the wicked sister. The good were often not so good, but only afraid to be wicked. But Sadie had a feeling that the good sister in the photograph was truly good, the soft and wonderful kind of goodness that would bring the wicked sister back to her, time and again, for comfort, and to see the plain joy upon her face.
After the death of wicked sister, the good sister had gone to Louisiana to be married to a man of property, and had two daughters—one who looked like her, and one who looked like her dead sister, the wicked one.
One day, the wicked sister had run away, never to be seen again, very young. Or had she been kidnapped? The good sister had pined. Their parents had had other children—but the two sisters had never truly been separated. They were joined, as if by a long, black ribbon, which stretched from the Catholic orphanage that had raised Sadie, to the good sister's girlhood in Broussard, the only word young Sadie could speak beside her own name, when she had been found.
With one look, that connection had been drawn taught as a piano wire, and tomorrow her sister would see Sadie, for one last time.
They would have their photograph taken together. By then, Sadie would be dead, her image perfectly clear, propped up in Lulu's front parlor, next to her sister—who would swear to discover who had killed her, and take her revenge.
Later, the good sister would discover the name of the police officer who had arrested Sadie, then killed her. He would disappear, only to be found later, floating face-down in a canal. No one would suspect the nun. Sadie would be dead—but loved.
Everyone made up whatever stories they liked, in Storyville.
THE END
Geeky gothics and other strange & wonderful fiction: sign up for the Wonderland Press newsletter here. Includes two tales of Doctor Rudolpho, a teenaged fortune-teller who has the Sight.  If you enjoyed today's story, please consider signing up!
You can find 2018's story-a-day project, Tales of the Normal, here, and 2017's story-a-day project, October Nights, here.