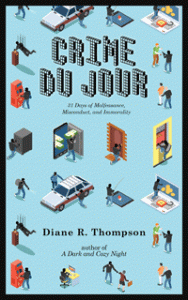 Crime du Jour: 31 Days of Malfeasance, Misconduct, and Immorality
One crime story per day, all the way through October. Ebook to be published Nov 1. This will be under my mystery/crime pen name, Diane R. Thompson!
Crime du Jour #22: Probation Violation
PETROSINELLA (A FAIRY TALE)
Petrosinella had been born to a poor family over in the old country.  Her mother had traded her for some fresh parsley to an ogress, which wasn't as bad a deal as it sounded, since it meant that the child would be born alive, and live long enough to get given up, which was longer than some children got.  The ogress often gave her family good food, even in the dead of winter.  Ogresses eat better than anyone.  No matter what you hear, it isn't because they eat babies.  Why would they do that?  All they have to do is whistle, and rabbits jump into their snares, and fish into their nets.
The mother tried to hold off giving up her pretty little Petrosinella for as long as possible. The ogress was not the sort to take a child, even one she was owed, without permission.  She would stop little Petrosinella along the road and say, "Tell your mother to remember her promise," which message Petrosinella would faithfully repeat. She wasn't the least bit afraid of the ogress, and thought of her as a sort of holy sister, for the ogress would wear a nun's habit to keep the eyes of cruel men off her, when she was out.
The mother always pretended she did not hear Petrosinella's reminders, until one day she cried, "If you think that ogress is so gentle and so sweet," for the ogress always gave the little girl bread, or sweets, or flowers, "you tell her she can take what is owed!"
The next day, Petrosinella told the ogress exactly that, and was swept up into the ogress's arms and taken off to a tower far away from her village, where she was taught to read and to cipher and to say her prayers, which, I am ashamed to say, her mother and father had not taught her.  That is not to say that Petrosinella was imprisoned in the tower.  She spent most of her days in the forest with the ogress, learning to whistle up rabbits and fish, to name all the plants and their uses, and to make all sorts of elixirs and medicines.
Then, one night, a prince found Petrosinella's tower.  Princes are like fleas, they get everywhere and bite you until you scratch.  He climbed the tower, found Petrosinella there, and had his way with her, leaving her behind to face the music.  He never offered to take her with him. She was only the daughter of a poor family and he could not have married her, even if he had wanted to.
The next day, the ogress asked Petrosinella what the matter was, and Petrosinella, in all innocence, told her, not knowing that the ogress had promised Petrosinella to an order of friendly sisters nearby, in honor of her friendship with the old Abbess. So you see that everyone has debts to pay, even an ogress.
The ogress tore at her hair, and cried that she had never seen such a fool of a girl.  The girl answered that she hadn't meant to disappoint her foster mother, and hadn't wanted the prince's attentions anyway.  But it was no use: what was done was done, and soon Petrosinella began to swell about the belly.
The ogress wailed that she would never be able to pay her debts now, and that Petrosinella would have only the worst sort of life ahead of her, the life her own mother had given her to an ogress to avoid.
Petrosinella said that she would go, but the ogress forbade it.  She was not cruel or unkind, and had great fondness for Petrosinella, whom she considered her daughter.  The ogress made Petrosinella agree to stay at the tower as punishment for betraying her trust, then went to her bed, to weep such tears that the tower was soon surrounded by tall mounds of rue.
Long waited Petrosinella in the tower.  When the babe quickened, the face of the ogress darkened even further, and Petrosinella vowed to leave the tower and find the prince, so the ogress would be longer troubled by her disobedient foster-daughter no more.
And off she went, to look for the prince.
She was not blind, as some of the stories say, except in the way that young women are always blind to princes, and when she whistled, the rabbits leapt into her snares, so she wasn't hungry, either.
The ogress followed after her, as soon as she discovered her foster-daughter was missing. She looked everywhere, only to find trouble at every turn.  Finally a villager came to her, and, thinking her a nun, begged her to help ease the birthing pains of a woman, although a sinner—at least come, begged the villager, and pray.
It was Petrosinella, and she was very close to death, for she had conceived of twins.
The ogress saved both her and her twin sons, and said, "And all this, after I forbid you to go."
Petrosinella asked what her punishment was to be, saying she had never wished to have the ogress for a mother, and had not wished to be trapped in the tower forever, and did not wish to be punished for her mother's cravings, or to be given to nuns: and so you can see that even a woman raised by the kindest of ogresses can sometimes lose her temper.
The ogress declared that Petrosinella was so free that she would have to invent her own punishments, and went home.
One day, a long time later, Petrosinella returned to the tower. It was after her sons were grown.  All was badly worn and broken, the garden untended.  The ogress came to the window and squinted at her, for her eyes were bad and her limbs were weak. In fact she could hardly whistle the rabbits into her snares anymore.
"I have come to face my punishment," said Petrosinella, and gathered up some parsley, which had gone wild, to start on some soup.
THE END
Note: this story is based on the early Italian version of the tale more familiarly known as "Rapunzel." Actual probation violations proved to be almost as depressing as second-degree murder charges, and I just couldn't do it. So that's why it's a fairy tale today.
Geeky gothics and other strange & wonderful fiction: sign up for the Wonderland Press newsletter here. Includes two tales of Doctor Rudolpho, a teenaged fortune-teller who has the Sight.  If you enjoyed today's story, please consider signing up!
You can find 2018's story-a-day project, Tales of the Normal, here, and 2017's story-a-day project, October Nights, here.