This was my first ebook, the one that's been up the longest.
Now available at Smashwords, Amazon.com, and Barnes and Noble.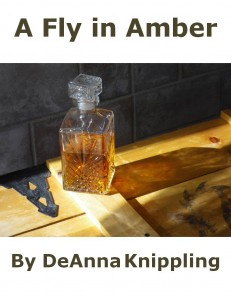 A Fly in Amber
by DeAnna Knippling
Three bottles of the Shackleton Scotch have returned to Scotland over 100 years after the failed Antarctic expedition. But how do they taste?
This is a story about a 100-year-old Scotch and why I was one of only two men to taste it.

In 1909, explorer Ernest Shackleton tried to reach the South Pole but failed.  Oh, his expedition made it the furthest south of any expedition at the time, but they had to abandon the trek due to lack of food and other supplies, and Roald Amundson took the prize instead in 1912.  On the reason why he gave up, Shackleton told his wife, "I thought you'd rather have a live donkey than a dead lion."

In abandoning the expedition, Shackleton and his crew left behind Scotch (five crates) and brandy (two crates) under the floorboards in a small hut in the Antarctic.  The Scotch was made by Mackinlay and Co., a distillery founded in Leith, now a borough of Edinburgh.

Shackleton, an Irishman, had asked Mackinlay to provide the Scotch necessary for the expedition, and the company kindly obliged.  The crates were discovered in 2006 but couldn't be removed due to being frozen in ice.  It wasn't until 2011 that three bottles of Rare Old Highland Malt Whiskey had been delivered back to the current owners of Mackinlay & Co., distillers Whyte & Mackay.

Whyte & Mackay decided to try to analyze the blend and try to recreate the Scotch as a publicity stunt–the original recipe had been lost.  It wasn't just a bottle of Scotch, see, it was the chance to prove that even the Irish liked the spirits of the Scotch better than their own stuff.  Of course Whyte & Mackay had to do it.

Because of the bad record-keeping at the time, they had no idea what kind of whiskey it would turn out to be, light or heavy or smoky or even blended.  The stuff was shipped up to Invergordon, where the company's laboratories were.

So where did I come in?