New kids' fiction now available from Amazon, Smashwords, and Barnes & Noble,with other sites to follow (Kobo, Apple, Sony).
I'm trying something new…
This is actually a two-story pack, with "The Test" and another kids' story set in a fantasy world, "The Scaredy Wizard of Theornin."  Both play around with Grimms' fairy-tale themes.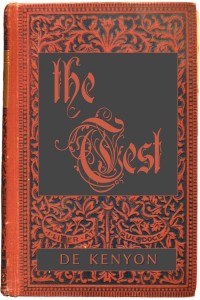 The Test
by De Kenyon
Mari von Ingler is good for nothing, not making sausages or sewing a straight line or anything of use in her village, so her father arranges for her to be an apprentice to a mage…but only if she can pass the mage's test.
But when the mage arrives, he only sends her out into the forest with no instructions but to come back and tell him whether she passed. She means only to stomp off into the woods and hide for an hour, but now she's so lost that it would take magic to find her way back…
Mari von Ingler leaned gently against the warm white wall of the inn on the bench made out of half of a tree trunk that nobody but travelers sat on. She didn't dare move an inch more, or the splinter poking through her thick wool skirt and linen underthings would bite her. She closed her eyes and tried to swallow back the rotten taste in her mouth. She wished she hadn't eaten Mama's good food; she wished she couldn't smell the roast turning on the spit, inside the inn.