Here's my new The Edge of the World cover: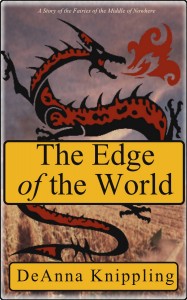 When Jack was a kid, he was kidnapped by fairies. Sounds great, right? Except surviving the fairies was hell. Jack only escaped with the help of his best friend, Felix.
Now his kidnapper's dead, and Felix has come to take Jack back to the fairies…to take the place of the fairy who tortured him. And to make Jack do the same thing to someone else. To kidnap some other innocent little kid. And if he doesn't…they'll find someone else to do it for him.
Someone not as nice.
(Available at Smashwords, Amazon.com, B&N, Sony, Apple, Kobo, and probably more.  But they aren't all updated yet.  If you want to check out the old cover and blurb…click at one of the links that's not Smashwords, which is updated.)
Isn't it pretty?
I've learned a lot about self-publishing books since I started. Which means…that some of my ebooks weren't so high on the publishing learning curve, and I'm going to be working on the marketing materials for them. That means updating genres, keywords, descriptions, and covers.
Step 1: I found out which ebooks weren't selling well. (I used Trackerbox, which OMFG is worth it for the pain in the ass it saves…I have 50 things to track at this point.)
Step 2: I tested out whether updating genre, keywords, and descriptions would be worth my time, by picking out the stories that had few sales, then updating their basic information. (I didn't change covers.)
Step 3: Most of the stories that I tested improved in sales. Not immensely. But some. Success!
Step 4: I redid the numbers analysis and came up with which stories needed the most help, and in roughly which order.
Basically, about 1/3 of my stories are generating most of my sales, and the other 2/3 have been wallowing around with limited success over the last year. Are some stories fundamentally better than others? Sure! But none of them suck.
Take this story: it was the one that got an honorable mention in The Best Horror of the Year, Vol. 3. So it might not be great, but it certainly doesn't suck.  But it has never sold for shit.  Why?  Because I had a lot to learn.
Expect to see a few of these new covers coming through.  I won't post heads' up for new text, but I am pretty proud of my covers now, so I'll post those.