Now at Smashwords, Amazon, and Barnes & Noble!
Coupon for FREE story this weekend only:  use coupon code JT47V at Smashwords to gain revenge upon those who charge too much for ebooks!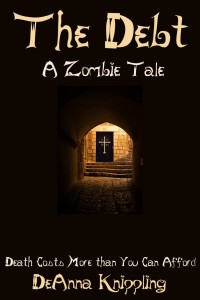 The Debt:  A Zombie Tale
Death costs more than you can afford…
He hired Dr. Skalos to put his brother to rest.  He paid and paid and paid, yet still his brother walks, and hungers…
As I hid under the bridge, I noticed there was a sliver under my skin that had come from the coffin of the last grave I dug up for Dr. Skalos. Dr. Skalos is the kind of doctor that you hope you never have to consult, but somehow you always do. And then you have placed yourself in his power.

I had had to consult him on the matter of my brother, who had not yet died, even though he was dead. I had tried everything from bathing him in milk and attar of roses to hitting him on the head with a shovel, and still he moved and hungered, even after the sickness stopped his breathing.

I had finally tied him up and stuffed his mouth with rags to keep him from moaning, and brought him in a cart to Dr. Skalos's back door.

Dr. Skalos took him inside, chanted and waved burning feathers over him, and laid in him stone-dead in a coffin within the hour. I assumed guardianship of the two brats that my brother had not consumed and the debt of having him put, finally, to rest.

And so I dug up corpses when Dr. Skalos requested it. Oh, he paid me, just as I had had to pay him to lay my brother down, but there were debts other than money that neither of us had yet deemed paid.