Coupon coming tomorrow from Smashwords!
Now at Smashwords, Amazon, and Barnes and Noble.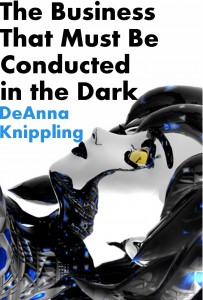 The Business That Must Be Conducted in the Dark
Does it bother you to be a slave?
(Warning:  Mature Content)
Master Zorac wants Annalise to follow him into the dark, but her programming won't allow it…until she's sent to capture him.
Master Zorac opened the closet door, even though it was not time for his next appointment. I blinked several times to indicate my alert status.

"Annalise, does it bother you to be a slave?" I smelled his scent, which had a sour sweat underneath its masculine perfume. Perhaps he wanted to bathe. Or to have sex and then bathe. The light was bright in the hallway, dark in the closet, and my master was little more than a handsome shadow. I smelled him. I smelled him through my skin. His smell was a caress that he didn't know was running all over my skin. I hoped he wanted sex. "Wouldn't it be better to be dead? If it meant that others could go free?"