I did a review and interview of Jeremy Hepler for his horror-thriller novel, The Boulevard Monster, for Ginger Nuts of Horror.  I liked and recommend it if that's your thing.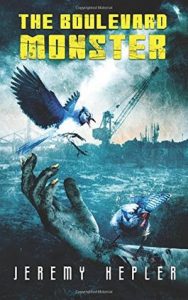 I KNOW WHAT YOU HAVE HEARD ABOUT ME
You say that I am a madman. You say that I am dangerous. You say that I am the one who has been abducting women, slaughtering them, and burying their corpses all around this city for years. You are wrong, because only part of that statement is true…
I AM NOT A KILLER
I know that you probably won't believe me. Not now. Not after all that has happened, but I need to tell my side of the story. You need to know how this all began. You need to hear about the birds, but most of all, you need to understand…
I AM NOT THE BOULEVARD MONSTER
You can find the book for purchase here.