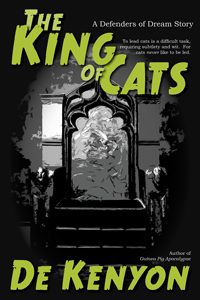 The King of Cats (Defenders of Dream #3)
Universal Buy Link | Goodreads (reviews)
Whose friendship matters most in the land of dreams?
Ferntail the cat and his friends have been summoned to the capital of dreams. Why? No one explained, but it seemed foolish to decline. Perhaps the King of Cats would like to recognize them for their brave and valiant deeds.
Or perhaps the King of Cats needs their help.
The nearby Kingdom of Mice has been overthrown, and suspicions abound. Who is undermining the land of dreams?
Only Ferntail can find out.
A Defenders of Dream story:
The Society of Secret Cats
The Nightmare House
King of Cats