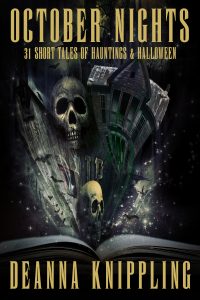 October Nights: 31 Tales of Hauntings and Halloween
A collection of flash fiction: 31 tales for the 31 nights of October.  As wide a variety of horror as I could come up with–from Barker to Bradbury to Zenna Henderson.
SPOOKY SHORT FICTION – PERFECT FOR A HALLOWEEN NIGHT!
Thirty-one horror tales of ghosts, haunted houses, vampires black cats, mad science, weird plants, demons, zombies, and Halloween. From the surreal to the gory, surprise twists, black humor, bad puns, dark dreamlands, old myths, thrillers, chillers, and illers. Twilight Zone stories, dark fantasy stories, Black Mirror stories, and far-future dystopias.
Short & sweet…monsters & meat.
(For teens and up.)