Orphans, mysteries, and Victoriana – oh my!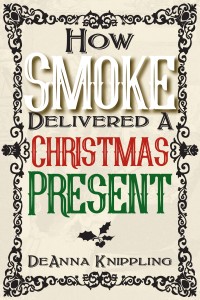 The Kobo 40% off promotion has started, with a number of titles on sale.  Use code 40DEC to get the sale price.  The link to How Smoke Delivered a Christmas Present is here.
This novella is the second in the series – however, I've written both of them so you can read them in any order.  You're cool.
If you're not a Kobo reader but you're interested, you can also pick up the book here:
Kindle | Nook | Kobo | iBooks | Goodreads (reviews)
or in the Very Merry Christmas Bundle at those same sites or here.
You can also pick up a free copy of the first book in the series, How Smoke Got Out of the Chimneys, here until December 31st.
…
London, England. 1840.
The Chimney Sweep Act has just been passed by Parliament, forbidding the use of underaged orphans as chimney sweeps' assistants—four- and five-year-olds are being sent down into chimneys with wire brushes to scrape out the creosote. The government means well, but has instead put hundreds or even thousands of little kids with no real protectors out of work. Right before Christmas.
Caroline, a.k.a. the infamous Smoke, has been trying to rescue them all.
Three of the orphans are staying at the home of Mr. and Mrs. Croft, well-off mill-owners from Yorkshire. The first night, all seemed to be fine—but the next time Caroline checks on them, they have left the sign for trouble in their window. All three of them are missing, and their belongings are still nailed up in the crate they were delivered in.
Caroline breaks into the house, fearing the worst…