Now at Smashwords, Amazon, and Barnes & Noble.
Need help putting one foot in front of the other? No point in giving up writing; you'll just give up on giving up on it, and you'll be back.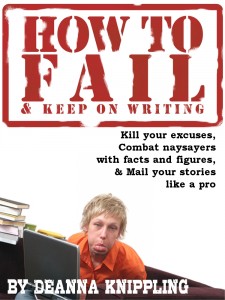 How to Fail & Keep on Writing
Kill your excuses,
Combat naysayers with facts & figures,
& Mail your stories like a pro
by DeAnna Knippling
Afraid of rejections?  So afraid that you never put your stories in the mail?  This book will show you how to overcome fear of failure when It comes to writing, submitting, and publishing your fiction.
Warning:  This book will help you combat feelings of failure, humiliation, ennui, depression, and writer's block.  It contains math, including facts and figures you can use to shut up people who want to know when you're going to get a real job.  This book will take away your excuses to whine about how well you write, how much time you have to write (and lack thereof), how slowly you write, and how much more editing you have to do before you can possibly think about submitting.

If you intend to keep sabotaging yourself as a writer—don't read this book!
I was having a bad week this week, going, "What am I doing with my life?"  In the course of editing this, I got it pulled back together again.