Would you like a free copy?  
The print version of Guinea Pig Apocalypse is up.  Yay!  You can order it online at Amazon or B&N, and probably a bajillion other online bookstores.
However, I could use some reviews.  I have a giveaway going on at LibraryThing right now; you can scroll down or do a search for "guinea" to find it (there are a lot of different giveaways–if you want free books, it's a great reason to sign up for LT, because they do this every month).  For a limited time, I will also pass out ebook copies to anyone who drops me a line to request one, barring anything weird, like someone with a signature line that reads "violates copyright for fun and profit."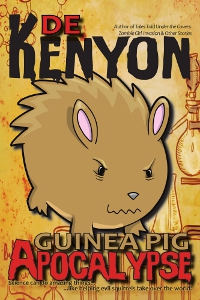 Guinea Pig Apocalypse
by De Kenyon
What? It's summer and you have kids who are bored? Who knew?!? Why not hand them a copy of this story to keep them amused? It's a cute story, especially for those of use who are Guinea pig fans, but there's no shortage of action (or poop). Parents with a sense of humor required, but I'm especially looking for reviews by kids aged 9-12. (If they're younger, you may want to skim the book first.)
Galileo's mad-scientist parents have done it again: invented something that got completely out of control. This time, it's a matter replicator in their basement. And a squirrel army out to get rid of the humans. And lots…and LOTS of Guinea pigs out of sewage. Yuck!
Now it's up to Galileo and his friend, the giant Guinea pig Max, to stop the pigs from being mind-controlled by the squirrels and taking over the world!
You can get the ebook of Guinea Pig Apocalypse at these online retailers, and more: Amazon, Kobo, Smashwords, B&N, and Apple.