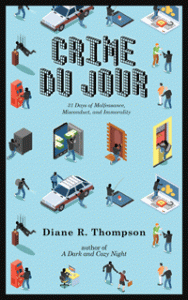 Crime du Jour: 31 Days of Malfeasance, Misconduct, and Immorality
One crime story per day, all the way through October. Ebook to be published Nov 1. This will be under my mystery/crime pen name, Diane R. Thompson!
Crime du Jour #31: White-Collar Crime
TONIGHT IS FOR THE SIX OF US
Once a year—Halloween—the six of them gather at a tasteful mansion in Castle Pines, Colorado. It's a $2.7-million house, at last guesstimate. The walls are stucco and the walk-out basement is big panes of glass.  There's a glass walkway indoors, running from one side of the mezzanine to the other, and glass tile walls between rooms.  The dining-room table is made of glass, the fronts of the cabinets are made of glass.  Hearing the description of the house, you might be tempted to make a joke about how people in glass houses should not throw stones.  But the house feels warm and luminous, the kind of house where you can view the worst weather out of the windows with equanimity, because you cannot avoid feeling warm and safe within them. There's a screening room with theater-style seating in the basement, if that tells you anything.
Within the house are a number of skylights. There are skylights on the roof, of course, but there are also skylights built into the floor inside the house, not extremely large ones, but extremely difficult to walk on. Your every instinct is to avoid them, even though they are perfectly safe. During a party, you might look upward through one of these skylights, and look up a woman's dress.  Or look downward and see into a room you haven't glimpsed before, and spend the rest of the night attempting to find it.
At the bottom of the stairs in the basement is a sort of shrine, two half-columns on either side of a glass sculpture, almost like a Chihuly or underwater coral. Visitors have called it a "sort of jellyfish" or "a monster." Variously, the sculpture is said to symbolize greed, lust, the beauty of the underwater realms, or "an elder thing, something like Lovecraft's Cthulhu," according to one of the most spectacularly brilliant financial analysts ever to consult for a member of the six.
She was an odd one, that Nora de Zaldo.
She looked continuously on the edge of tears, or anger. She had dark circles under her eyes, and hollows under her cheeks. She had thin lips, downturned, and curly black hair that she kept pulled back in a severe bun.
Even stranger, she noticed things. She looked downward into the skylight—the one in at the bottom of the back stairs to the second floor; the basement couldn't be reached from there—and turned to one of the other guests, a promising movie director who hadn't quite made Hollywood, and said, "I don't think I belong here."
The director, also a woman, tried to reassure her.  "If you've been invited to one of the six's summer parties, then you must belong here!" said the woman, still optimistic despite being in her thirties. De Zaldo shuddered, and looked upwards. Above the triangle-shaped skylight set in the floor were two large wood supports, crossed over each other in an X.  (The light on the landing came not from above, but from floor-to-ceiling windows set in a semi-circle along the outer wall.)
So when de Zaldo found herself, at the end of October, in a small room with cement walls, and the only light coming from a skylight above her, she saw the X on the ceiling of the room above her, and understood where she was, if not why. A steel door, hinge-less and without a handle on the inside, blocked her egress. There was a bed, a sink, a toilet, a drain in the floor, a heavy hook on the ceiling, and a small, muffled air vent that did not echo when she banged on its steel mesh. There was no food.
She was wearing a jogging suit, warm but moisture-wicking, clean cotton underwear and an undershirt, but no bra. Her hair was loose, but an elastic hair tie had been left on the back of the sink for her. She pulled her hair up, noting her irrational gratitude for the thoughtfulness it signified.
Why me? she asked herself. Why here?
De Zaldo ran through possibilities, reaching a tentative conclusion that she was being withheld. Not being held prisoner, but being kept out of reach. She waited.
Hours later, the owner of the house appeared, bringing a garlicky pumpkin-tomato soup and a panini, which she set down on the bed. "I hope you don't mind, dear," she said, "but Carlos—" One of the other guests at the party, de Zaldo recalled, and a friend of the owner's— "was getting decidedly fussy about having you killed."
"Why?" de Zaldo asked.
The woman laughed and named a certain company.  "Because your predictions about their stocks went contrary to his insider information, darling. How dare your math be more accurate than his informants, I think the thinking went. I made millions off your advice."
"And?" de Zaldo asked.
"Poor Carlos," the owner said, shaking her head.
…
A few days later, on Halloween, the owner held an intimate dinner party, entirely unlike the party de Zaldo had attended in July, and much more to her taste. By then, matters had sorted themselves out, and de Zaldo had been released from her bolt-hole, or oubliette, or whatever it was, and was wearing a low-cut velvet top with a lace choker, and a translucent, embroidered pink skirt over black tights. They were coming downstairs from de Zaldo's guest room, where she had changed.
"And Molly?" de Zaldo asked.
The owner of the house said, "Of course your lady friend is welcome on Thanksgiving, ma chère, but not tonight. Tonight is for the six of us."
At the landing, de Zaldo hesitated.
Below the glass of the skylight was a pale face, looking up at her. It raised one hand in supplication.
De Zaldo looked up at the owner, who had come to a stop, and wore a half-smile on an already crooked face.
"I thought—"
The owner winked. "Just before midnight," she said. "And then we hang him for six weeks. A good sacrificial feast never happens on Halloween."