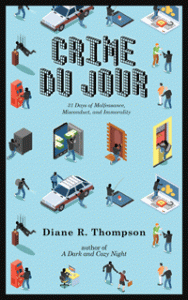 Crime du Jour: 31 Days of Malfeasance, Misconduct, and Immorality
One crime story per day, all the way through October. Ebook to be published Nov 1. This will be under my mystery/crime pen name, Diane R. Thompson!
Crime du Jour #3: Arson
THE FIRE ON ATTLEBORO PLACE
Someone rings the doorbell downstairs. It's three o'clock in the morning, and there's an empty spot on the bed beside me, and no light on in the bathroom.  I get up and go downstairs. My wife Judy's shoes and purse and a clay-colored jacket of hers are all missing. I answer the door and it's a blonde heavyset man in his fifties. He's wearing a t-shirt with a fire department logo and Carhartt pants.  He smells like smoke, and my guts just fill up with lead.
"Are you Isaac Eudy, Jr.? Are you the owner of 267 Attleboro Place in Mooresville?"
I own several rental properties in that area, so I say, "Yes, sir."
"I'm Investigator Herlocker with the Mooresville Fire Marshall's Office. There is an active fire at 267 Attleboro Place."
I sigh. I have always had a feeling about that place, that sooner or later it would be trouble.
The investigator asks, "Is your wife at home?"
I say, "I didn't see her when I got up a second ago, and her purse and shoes are missing."
"If you will come with me, sir, I need you to identify whether or not we have found your wife."
On the way from Charlotte to Mooresville, for nearly fifty minutes I try to reach my Judy, but she doesn't pick up the phone.
…
My renter's name is Oscar Van Pelt, he's about thirty-five years old, and I'd have to say a real spoiled shit.  He's in the right neighborhood for his personality, though. Trump owns a golf club out there, if that gives you a picture.  The house has a swimming pool and it backs out onto Lake Norman.  Insurance-wise, that house is worth about four times the value of where I live in Charlotte. That house has marble countertops, an open-plan kitchen, gray walls inside and out, and lots of windows.  I bought it because I could get eighty-five hundred a month for rent.  Oscar Van Pelt is in the film industry of North Carolina, although he is not from here.  His contract is for one year.
When we get to the house, it is surrounded by so many fire trucks that we cannot find a place to park. About half the house is completely gutted. It is a loss. The investigator takes me to a van belonging to the North Carolina OCME, which is the medical examiner, and they have her in a black bag, which looks too thin. That bag is thinner than a zip-up garment bag for a clean suit.
Seeing her shakes me up. I cannot believe it is Judy. She isn't wearing her wedding ring, although you can't tell to look at her, she's so burned up. The tech in the van has to run a probe along her finger, to show me that the ring is missing.
"That her?" Herlocker asks.
I go, "I can't tell."
"Look again," he says.
I say, "I think that just might be her jacket, but—"
"Any identifying marks?" he says.
"Other than her teeth? No, she didn't have any moles or nothin'. You better call her dentist." I give Herlocker Judy's dentist information, and he says he'll be in touch.
…
I call my insurance agent.  Then I call Judy's mom. "What was she doing over there?" she asks. I tell Judy's mom that nobody's sure if it's Judy yet. "Oh, it's her," she says. "I had a feeling in my gut earlier, like when she used to sneak out of the house when she was thirteen. That girl was always trouble."
…
It's Judy, all right. She was strangled, before she was burned.
I didn't recognize my own wife.
…
They found two gallon-sized jugs of liquid paraffin in my basement, and paraffin and empty jugs of the same brand all over the basement of 267 Attleboro Place.  They found some of my fingerprints on the utility room door in the basement.  Judy's fingerprints were all over the tub in the master bath, and her cell phone was tracked going to the Attleboro place at 11 p.m.
I turned in early that night.  I thought Judy had too.  We were both in bed by nine.  Judy snores, so I sleep with earplugs in.  I made her supper that night.  We ate together. I made her oven-baked fried chicken and glazed carrots. You just throw it all into the oven, and it takes care of itself. They said she had chocolate-covered strawberries in her stomach, when they cut her open.
You get into middle age, you stop worrying about your wife cheating on you. Or you cheating on your wife, for that matter. I think she was mad I was taking her for granted. Or else she was just plain bored. The police went over her phone records and text messages. She had called or texted Van Pelt about a thousand times.
And I didn't know it, or even suspect.
Van Pelt got out of the burning house with minor burns and smoke inhalation. He had to be dragged out of the master bedroom. He said he had never seen my wife before in his life, although Judy's vagina said otherwise. And then he said, he had no idea how she had gotten into his basement, with or without fourteen jugs of liquid paraffin.
At the trial, it came out that the 911 call had come in at two-fifty a.m.
When it was my turn to get questioned up there on the stand, I interrupted the prosecutor:  "I just have one question for you, sir."
He was one of those kids who still think they know everything. "Yes, Mr. Eudy?"
"Just how did Investigator Herlocker get to my place in Charlotte by three a.m., if the call was at two-fifty? Because 3 a.m. was the time that I started trying to call Judy, non-stop, as my phone records will show."
And that was when the case fell apart.
THE END
Geeky gothics and other strange & wonderful fiction: sign up for the Wonderland Press newsletter here. Includes two tales of Doctor Rudolpho, a teenaged fortune-teller who has the Sight.  If you enjoyed today's story, please consider signing up!
You can find 2018's story-a-day project, Tales of the Normal, here, and 2017's story-a-day project, October Nights, here.