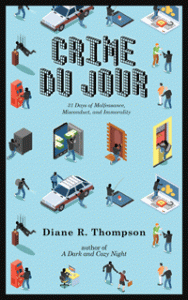 Crime du Jour: 31 Days of Malfeasance, Misconduct, and Immorality
One crime story per day, all the way through October. Ebook to be published Nov 1. This will be under my mystery/crime pen name, Diane R. Thompson!
Crime du Jour #17: Indecent Exposure
FLORIDA MAN EXPOSES HIMSELF TO NUNS
October 11, 2019 — PENSACOLA, Fla. — A Florida man found nude inside an after-hours ShopMart Halloween display is facing charges after being reported for indecent exposure by local nuns.
The Sun-Journal reports 34-year-old shopper Elwood "Eddie" Rigsby was arrested in the early hours of last Friday after closing hours of the local ShopMart after being discovered within the store's seasonal Halloween display at approximately one a.m. by a search party constituting of over forty searchers, including several police officers, three shift supervisors, and the store manager, Hazel Knoblock.
Earlier the previous day, an emergency call was received by the Pensacola Police Department about a topless man who had exposed himself to several nuns who had been perusing the seasonal section.  The nuns, members of the Congregation of the Sisters of St. Lidwina (CSL) were preparing to celebrate a Jubilee, or twenty-fifth anniversary of observing the religious life, for one of their members. The sister making the call reported that they had found the man hiding within the racks of adult costumes in the store.
The suspect was reported to have behaved in a "lewd and indecent manner," and shouted at the nuns to "suck on it like a lollypop," after which he was reported to have snatched a costume with a men's short bolero jacket and sombrero and disappeared within the men's clothing aisles.
But that was only the beginning.
Several officers arrived shortly afterward to search for the suspect, who eluded detection for several hours.  After closing, a more thorough search was performed; however, the suspect was not located for several hours, until a large display of boxes of Halloween candy and decorative streamers, shaped like an enormous jack-o-lantern, was disassembled.  The suspect was found to have created himself a narrow, cramped hiding spot within the boxes using a box-cutter, several rolls of adhesive tape, and a fleece throw quilt, decorated with Halloween themes.
Store Manager Hazel Knoblock stated, "The candy was shipped to us packed in Halloween display boxes, the kind where all you have to do is cut open the front.  You can stack the boxes on the shelves or build them up in displays if you want.  They're pretty handy.  We have one employee who's a genius at building seasonal displays for us, everything from football goalposts to thirty-foot beer gator.  He put a lot of work into that jack-o-lantern, and it almost makes you want to cry for the damage that [the suspect] did to it. It was like having a rat get into your pantry. Those boxes looked gnawed on."
Rigsby was released Sunday on $11,500 bond and faces charges of indecent exposure, criminal trespassing, second degree petty theft, and criminal mischief. It's unclear if he's retained an attorney.
Of note is that the suspect returned to the same ShopMart location after his release to purchase the fleece throw quilt he had used earlier the previous week, calling it "the most comfortable blanket I ever passed out on."
Store Manager Hazel Knoblock states that that type of quilt is currently sold out, but an additional shipment of quilts will be arriving soon.
Wireless Device Used to Hack Customer Records At Local Store
October 17, 2019 — PENSACOLA, Fla. — A customer database at a local ShopMart was hacked during the last week using a small wireless device that connected to an unsecured computer network via wireless router, with hundreds of customer records, including the credit card information of several nuns, potentially at risk.
THE END
Geeky gothics and other strange & wonderful fiction: sign up for the Wonderland Press newsletter here. Includes two tales of Doctor Rudolpho, a teenaged fortune-teller who has the Sight.  If you enjoyed today's story, please consider signing up!
You can find 2018's story-a-day project, Tales of the Normal, here, and 2017's story-a-day project, October Nights, here.