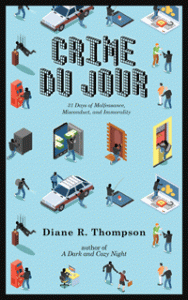 Crime du Jour: 31 Days of Malfeasance, Misconduct, and Immorality
One crime story per day, all the way through October. Ebook to be published Nov 1. This will be under my mystery/crime pen name, Diane R. Thompson!
Crime du Jour #15: Homicide
FELONY MURDER RULE
It was a meeting of the Little Old Ladies' club, and this month the three of them were having brunch at the Oak & Ash, a new restaurant run by a nice gay couple in their thirties, the sort of people who would have been called "roommates" back in the day.
"I think they're hipsters," Edna said. "Isn't that what you call the Millennials these days?  Hipster neckbeards? I bet they named the restaurant after their woods."
Edna, the oldest, had watched too much Golden Girls while she was going through menopause and it had done things to her mind.
Ronnell said, "I dare you, you redheaded tramp, say that to the waiter's face. Say it!"
Carrie said, "What do you think about mezcal?"
Edna said, "It's just the hipster name for tequila."
"I meant what kind," Carrie said. "I'm having the 'Naked and Famous.' Mezcal, aperol, chartreuse jaune, and lime." They all knew that aperol was an Italian apéritif with gentian and rhubarb in it; they had been drinking their way through cocktail lists for decades. Ronnell opted for a "Sunshine" with white rum and pineapple juice, and Edna ordered a pear mojito, shouting after the waiter, "And don't stiff me on the mint!"
Carrie said, "This month's business starts off with the Ralph Juza case."
Ronnell flicked her French-manicured nails. "That whole situation annoys me. Two men, Ralph Juza and Arthur Monk, are strangers to each other. Arthur Monk holds up a coffee shop and takes all the money out of the till and the safe in the office.  Juza is a bystander. He's frozen in terror.  Edmond Crouch, the coffee shop owner, takes a pistol and shoots Monk.  And now Juza is being tried for homicide?  It makes no sense. Unless it's a set-up."
Carrie said, "But before Crouch shot Monk, Monk gave the money to Juza. Shoved it at him as he was trying to run. So now Juza's involved."
"Juza didn't even know him!"
Edna said, "It was Juza's money in the first place, since Crouch stiffed Juza on those plumbing repairs, which you didn't mention."
Ronnell said, "I still can't see how Juza was involved with either the robbery or the murder."
Carrie said, "Technically, because Juza panicked and ran off with the money after Monk was shot, he became an accessory after the fact, as well as abetting the murder—since he picked up the homeless Monk up off the street and offered to buy the man some coffee."
Edna muttered, "It was Juza's money. With Monk as the bill collector."
Carrie rolled her eyes and continued. "The felony murder rule states that if any death results from the commission of certain violent felonies, that everyone involved in the commission of that felony can also be charged with first-degree murder."
Ronnell said, "Doesn't the death have to be someone who isn't a criminal participant, at least in this state?"
Carrie screwed up her mouth to think as the waiter brought their drinks. Edna got the "Naked and Famous," Carrie got the "Sunshine," and Ronnell got the pear mojito, which was positively packed with mint leaves, an alcoholic salad.
"Keep or swap back?" Edna demanded.
"Swap," Ronnell said.
"Keep," Carrie said. "No, I want the pear mojito." Ronnell got her "Sunshine" back and Edna stuck with the "Naked and Famous," which made Carrie's nose hairs curl just to smell it.
"Where were we?" Carrie asked.
Ronnell said, "Criminal participants."
Carrie said, "If that is the case, Ronnell, I'm sure Juza's lawyer will bring the criminal participant argument into play. Which would make it an easy dismissal."
Edna said, "Unless someone has a chip on his shoulder.  Get it? Chip? Wood?"
Ronnell said, "Oh, didn't I mention? There's a reason why I picked the Oak & Ash for bunch.  And it's him, Jesse Hall, one of the co-owners. He knows Crouch."
All three of them turned toward Hall, a willowy young man in his thirties with a pompadour haircut.  He felt the power of their regard, and walked toward them.
"Can I get you anything, ladies? More drinks?"
Edna leaned forward to say something awful. Carrie put a hand over her mouth. Smoothly, Ronnell interjected, "We were just talking about the Juza case. Have you heard of it?"
Hall nodded.
"What's your opinion?" Carrie asked.  "Is Juza guilty of murder, or isn't he?"
"Technically…" said Hall.  "Yes?  He stole the money afterward, so he was involved in the shooting as an accessory after the fact. It's the felony murder rule, which is–"
"We know it," Carrie and Ronnell said, before he could explain.
Edna ripped Carrie's hand away from her mouth.  "Crouch acted in self-defense.  So it was never murder in the first place. Justifiable homicide. You can't charge a man for a crime that was never committed."
Ronnell said, "I heard Crouch kept blanks in that gun.  Not live ammo."
Hall pursed his lips.  "I knew Crouch. He told everyone that he kept blanks in it."
Carrie said, "But did he? What if he kept a box of blanks and a box of live ammo, so he could claim the rounds were switched by an accident?"
Ronnell said, "Or what if someone could have put a box of live ammo in with the blanks and switched it for him."
Edna chortled.  "I've known some women who've done that with condoms."
Carrie said, "But who?"
Ronnell said, "As far as anyone can tell, Monk was just an ordinary robber. An opportunist who had been arrested for the same crime before. He'd never been in the store before."
Carrie said, "…until Juza brought him to the coffee shop."
The case spread out before her: Juza had swapped the bullets, set up the murder, with either Monk killing Crouch or vice versa–he didn't care which–and got himself arrested for a crime that would be dismissed.
All so he couldn't be forced to go to trial twice over the same crime, because of the Double Jeopardy clause of the Fifth Amendment.
Clever.
She looked at Ronnell.  Ronnell winked.
Hall shrugged.  "All I know is, Juza was a terrible plumber, and he had gone to the coffee shop to argue with Crouch about whether Crouch was going to sue him for shoddy workmanship. Crouch is going to have to have all his pipes torn out and replaced."
Edna said, "My ex-husband had to have that done, too."
As Hall left, the three Little Old Ladies cackled in his wake.
THE END
Geeky gothics and other strange & wonderful fiction: sign up for the Wonderland Press newsletter here. Includes two tales of Doctor Rudolpho, a teenaged fortune-teller who has the Sight.  If you enjoyed today's story, please consider signing up!
You can find 2018's story-a-day project, Tales of the Normal, here, and 2017's story-a-day project, October Nights, here.