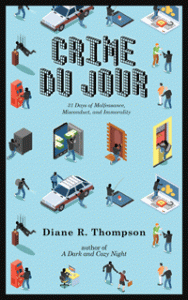 Crime du Jour: 31 Days of Malfeasance, Misconduct, and Immorality
One crime story per day, all the way through October. Ebook to be published Nov 1. This will be under my mystery/crime pen name, Diane R. Thompson!
Crime du Jour #12: Forgery
SIR RICHARD FRANCIS BURTON'S
SUPPLEMENTAL MISCELLANY OF MILITARY EXERCISES
The book is bound in dark-green patterned cloth, stamped in blind relief—that is, without gold leaf or additional color—with arabesque patterns and grape vines.  A close examination of the blind relief reveals the clever concealment of stilettos, bayonets affixed to rifles, ladies' pistols, asymmetrical caltrops (possibly improvised), dart-guns with flying darts, bottles (some sort of incendiary grenade?), scythes, and other improvised weapons. Upon a single, central, large gold-leaf illustration, is a group of what appears to be British Raj uniformed officers.  One rides a camel; two others horses.  All eleven wear turbans.  The men carry spears, rifles, scimitars, pistols, long daggers, and other kit. The stamping and printing of the gold leaf, sized with an egg-wash of glair, are exquisite. The gold leaf, further, appears to have been applied in several layers, including a layer of copper leaf to add depth and color. The boards are beveled, the gilding and blind relief worked into the spine as well as the front and back covers, and all page edges are gilt.
In bright gold and in an elaborate font, is the title: Supplemental Miscellany of Military Exercises.  The publisher is William Clowes and Sons, 1859.
The book, I might add, never existed, although one would never guess it, to hold it in one's hands as I have.
The author is Richard F. Burton (not yet a Sir), the famed explorer and translator of the bawdiest, and most complete, versions of The Arabian Nights' Entertainments and The Kama Sutra of Vatsyayana.
The contents are as follows:
Introductory Remarks, Page 5.
Section I. Principles of Improvisation, Page 11.
Section II. Hand Weapons, Edged, Page 16.
Section III. Hand Weapons, Blunt, Page 60.
Section IV. Explosive Weapons, Fired, Page 90.
Section V. Explosive Weapons, Thrown, Page 137.
Section VI. Explosive Weapons, Placed, Page 199.
Section VII. Chemical Weapons of All Types, Page 217.
Section VIII. Physical Traps, Page 240.
Section IX. Principles of Ambush, Page 263.
Section X. Principles of Defense Against Improvisation, Page 307.
Concluding Remarks, Page 328.
The introductory remarks begin:
While the services officially continue to oppose innovation in the matter of arms and weaponry unrelated to the construction of ever-larger guns in the pattern of the 68-pounder Lancaster, the men themselves have discovered the benefits of investigation and study of smaller, more inventive weapons and the tactics with which to best make use of them, often at the behest of an opponent that has mastered the use of such tools and tactics against them. For those men, a brief primer such as this may found to be of some use.  The objections to these methods offered up by their officers are—that men who depend on the tactics of their service, have no other method of defense but to keep together in line, and rely upon their fellow men, will never abandon or betray their officers. It should be noted, however, that, under this system, one's fellow men are mutually dependent on the defense of men who are not fully prepared to defend them.
The tools and tactics here provided have been learned, in the most part, from men of great skill and wisdom in Goa, the Scinde, the Valley of Indus, and throughout the Arabian Peninsula and East Africa, and should be considered a thorough, if not complete, manual of such warfare.
The question I have been asked to answer is this:
Is the book genuine?
With assurance, I can answer that the book was not published by William Clowes and Sons.  The predecessor to this book, A Complete System of Bayonet Exercises, was brought out in a simple edition in 1853, with a simple leather cover, and was limited to 86 pages, which edition certainly did not sell enough copies to warrant a magnificently bound sequel by its then-unknown author.  There is no record of the book ever having existed within the records of William Clowes and Sons, and Burton says nothing about it otherwise in his journals.
The book is magnificent.
A colleague of mine described it "as written by a Victorian James Bond about all the gadgets Q gave him, or that he made for himself, and how to use them," and that seems to be more or less accurate.  The book contains garrotes, improvised explosives, sword canes, pit traps, snares, a proto-mustard gas, and more. If it had existed, and been published, it might have literally changed the course of history.
Sadly, the biggest proof of the book's forged status was simply my desire for it to have existed.  Those who investigate forgeries often say that they have a "gut feeling" over whether something is real or a forgery.  The sad truth is that that "gut feeling" often leads researchers in the opposite direction to the truth, and that we who have some modicum of lasting success in the field find ourselves the most disappointed, when our hopes are most fervently aroused.
I spent some months exploring the provenance of the book.  It had been offered as Sotheby's, with the only authentication being that the materials of the book were not of recent manufacture.  This did not mean that the book had not been recently manufactured, only that its materials did not provide any proof contrary to that assumption. My client had hired me not to apply my skills with an electron microscope, white gloves, and chemical reagents, but to find whomever had created it, either recently or otherwise.
I did, eventually, locate a woman in Goa whose name I will not here mention, who said that her great-grandfather had written the book, and had two hundred copies printed, of which the majority were given to family and friends. She showed me other family copies, also exquisite.
Her great-grandfather had claimed to be Burton's illegitimate grandson (who himself claimed to be illegitimately descended from Louis XIV), and to have channeled the book from dreams, as told him by his ancestor himself.
And, in my heart, I believe that was just what he did.
THE END
Geeky gothics and other strange & wonderful fiction: sign up for the Wonderland Press newsletter here. Includes two tales of Doctor Rudolpho, a teenaged fortune-teller who has the Sight.  If you enjoyed today's story, please consider signing up!
You can find 2018's story-a-day project, Tales of the Normal, here, and 2017's story-a-day project, October Nights, here.