Now at Smashwords, Amazon.com, and Barnes and Noble!
Coupon for FREE ebook, from Friday-Monday (Memorial Day!) only:  use coupon code WQ99R at Smashwords and send the spirits of forgotten tales to rest…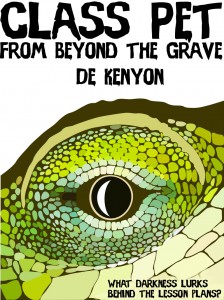 Class Pet from Beyond the Grave
What Darkness Lurks behind the Lesson Plans?
by De Kenyon
A ghost haunts the teachers' toilet, but Fox & Hare Paranormal Investigations faces worse something worse than a ghost when they investigate the case of a missing class pet:  murder.
"Come on, Dawn," Sampson said. "You're not going to convince anybody by yelling at them. Here." He handed one of Dawn's hand-drawn business cards, complete with a glittering ghost, to Principal Smiley. "If you need us, you know where to find us."

Principal Smiley crouched down so she was on her level and took the card with a fake-polite smile. "In class, I hope."

Tony said, "So much for your booger ghost," and the other kids laughed.