I'm trying to learn how to take better pictures.
If you've known me for more than a month, you probably know that I get on wild hares to learn new things.  In fact, I go a little crazy if I don't learn something new…about once a month or so.  These things don't always turn out the way I plan.  For example, my plan to learn enough about computers to get my A+ cert doesn't seem to be working out, because I have to prioritize other things I need to know.
I haven't given up.  I still sit down and study when I get a chance (mostly at work, because they have these nifty online training courses that look at things from a different perspective than my study book), and I enjoy the hell out of it.  And I really, really appreciate knowing what I have learned, because I'm not as helpless as I was mere months ago.
I also haven't given up on my plan to learn how to make hard cider.  However, I live in a bad house for it.  The one place I could conceivably make cider without pissing Lee off is the laundry room, which approaches near-freezing temperatures on a daily basis.  And I need a convenient source for unpasturized cider.  Again, not giving up, just reconsidering.  There is a recipe for a quick & dirty apple cider that I've been spying (it only takes a few days, and I can chuck it if it gets unbearable.)  I just have to get used to the idea, I think.  I often have to get used to the idea of a thing before I can embark on it.
Right now, I'm working on digital photography.  We have a digital camera that we bought after Ray was born, so about seven years ago.  It's a  2-megapixel camera, which is laughable by today's standards, but it's lasted us SEVEN YEARS, so take that, scoffers.  I used to like taking pictures a lot when I was a kid, but I never got any good at it (and never really tried to get any good at it, tell the truth).  Now, in the name of taking pictures for my food blog, etc., I've been pushing myself to learn more about how to take pictures.
The f-stop is still kicking my butt.  I have to re-review that section every few days in the hope that it'll make slightly more sense every time.  But I'm really enjoying posting pictures up on Facebook, even if they are pretty bad.  However, one of the unintended consequences of learning about computers is the perspective that it's okay to crash and burn, as long as you pay attention while you're doing it.  Things are never going to work out the way they're supposed to; in fact, things are more interesting when they don't work out the way you think they will.  See?  Computers are awesome.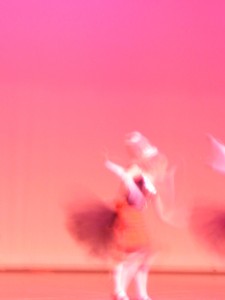 An interesting but terrible photo, taken at a dance recital.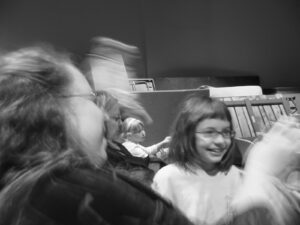 And another.  I have no idea how I did this.