Now at Smashwords, Amazon, and Barnes & Noble.
This weekend only! Get "Abominable" FREE at Smashwords using coupon code EZ77Q. Chilling!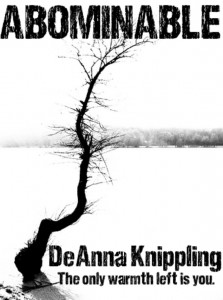 Abominable
The only warmth left is you.
(Warning: mature content)
You find the love of your life, and work your ass off to get her what she wants.  Now she doesn't love you anymore.  You need something.  You need something warm.
You're not the only one.
You meet a woman.

In a bar, sitting at a table, with a long, white cigarette between her pale fingers and smooth, pale nails. Her lips are red, her dress is red. She stares at you like a beautiful monster, hungry. The smoke curls toward you, she brushes her blue-black hair off her face. A cynical Snow White, the fairest of them all.

You're charming.

You turn the chair next to her backwards. You sit and smile. You're Jack. Her name is Laura. You say you'd like to share your life with her, starting with a drink. Hers is a gin and tonic. You're charming, and she enjoys you.