Now at Smashwords, Amazon.com, and Barnes & Noble.
Coupon for FREE ebook, this Friday-Sunday only:  A coupon code is worth 5000 words!  At Smashwords, use code HQ58V!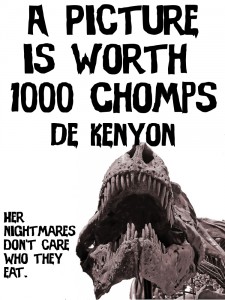 A Picture is Worth 1000 Chomps
Her Nightmares Don't Care Who They Eat
By De Kenyon
Seth uncovers shy girl Tony's secret talent:  she can make images come to life, but she can't control the evil, hungry monsters that she creates.
"What would be your superpower, Tony?" I asked. "If you were a superhero."

Tony's a shy girl. I didn't expect her to answer. But then again, I hadn't expected her to join us outside the chain-link fence separating the swimming pool from the rest of the park. She was the kind of kid you couldn't shake out of the swings with an earthquake. But that was the lure of comic books.

She turned the page. "Nightmares," she said.

"Creepy," I said.

She held her comic book so close to her eyes that I knew she couldn't see a thing. But I could see the top of her head turn bright red.

"I like creepy," I added.