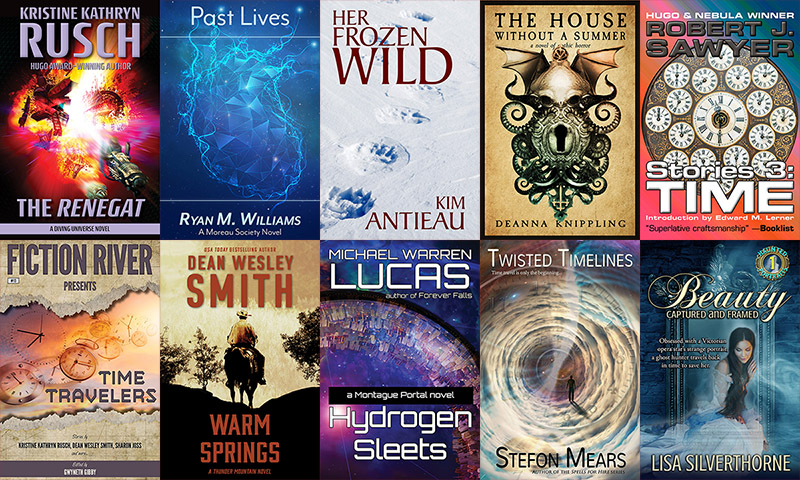 When I asked my da how ye knew which was the right woman, he told me when the time came, I'd have no doubt. And I didn't. When I woke in the dark under that tree on the road to Leoch, with you sitting on my chest, cursing me for bleeding to death, I said to myself 'Jamie Fraser, for all ye canna see what she looks like, and for all she weights as much as a good draft horse, this is the woman.? Diana Gabaldon
Welcome to the Big Time StoryBundle, where you can find ten books on time travel and all things weird and timey wimey. Pay $5 for four ebooks, or a minimum of $15 to unlock all 10 ebooks. Once you purchase, you will be sent download links for your ebooks. More info about this StoryBundle is here.
This StoryBundle helps send money toward the Oregon Food Bank, which has been hit particularly hard due to the Oregon wildfires in the area, as well as the increased need from COVID-19.
But unless you're a time traveler, don't wait! Because from time to time…it's a good time to save on ebooks!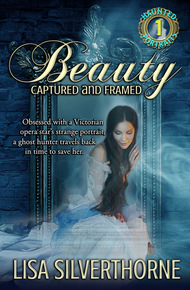 Lisa Silverthorne is a prolific short story writer, with over a hundred of her stories published across multiple genres. We're lucky to have her new novella exclusive to our StoryBundle! She is also included in the Fiction River Presents: Time Travelers collection!
1. Tell us about your book. What's it about, and how does time travel or other timey wimey weirdness fit into your book?
Hi DeAnna, my time-travel novella is about a lonely ghost hunter, Jackson Mayfield, who is obsessed with the strange portrait of a beautiful opera star that leaped to her death in 1896 and the local Port Townsend, WA, legend about a portal in the old, abandoned opera house. According to the legend, a portal will open for forty-eight hours, until leap day ends.
Jackson and his ghost hunting group test out the legend, and he steps back in time to meet this mysterious opera star. Never expecting to fall in love.
But the abandoned opera house holds secrets. And protects those willing to do anything to keep them. Until Jackson challenges them all—to save the woman he loves.
This novella is the first of three novellas I'm calling the Haunted Portraits series. Beauty: Captured and Framed is the first one, followed by Monster: Loose and Unhinged and Harmony: Recaptured and Under Glass.
My story in Fiction River Presents: Time Travelers is called "Christmas, Interrupted." This novelette is the story of a young woman's tragically missed love connection that turns ghostly when a lost cat shows up at her apartment and helps her go back in time to try and stop a Christmas murder.
2. What is one of your favorite time-related works? (Fiction, non-fiction, games, etc. all count!)
Gotta go with a couple of classics and a couple of moderns: The Time Machine by H. G. Wells (in the literal sense) and Dandelion Wine by Ray Bradbury (in the figurative sense) started it all for me. And for modern books: Doomsday Book by Connie Willis (in the literal sense) was amazing like most of Connie Willis' novels. But Passage by Connie Willis (in the figurative sense) just blew me away. Dandelion Wine and Passage are probably my two favorite books in the whole world. And if I could only take three books with me in that time machine, two of them would be Dandelion Wine and Passage. The third one would be a reference book.
3. What is one of your favorite songs featuring time? Or, if you used a theme song/playlist for your work, what was it?
One of my favorite time travel movies is The Lakehouse. The soundtrack for this movie has some great music on it and I've listened to it many times while writing. Not for this particular novella. I love listening to atmospheric music when I write, so when I wrote both of these stories, I listened to music by October Project, Enya, Grey Eye Glances, 2002, and the CD Victorialand by The Cocteau Twins.
ABOUT LISA:
Lisa Silverthorne has published over a hundred short stories in the fantasy, science fiction, romance, and mystery genres. Her short fiction has appeared in dozens of professional publications including: DAW Books, Roc Books, Prime Books, Pulphouse Magazine, and WMG Publishing.Lisa's novels and many of her shorter works are available online. For more information, please visit lisasilverthorne.com.
YOU CAN FIND HER AT:
Leap via hyperlink portal to find Lisa Silverthorne's Beauty: Captured and Framed and other tales at StoryBundle!