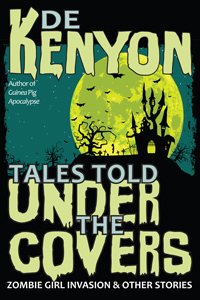 My collection of kids' short stories (under the pseudonym De Kenyon) is on sale at Kobo:  get 30% off by using code:
NEWYEAR30
at this link.
You can also use the same code on a bajillion other Kobo books here.
Quote from Richard Ayoade: "It feels completely inappropriate to try to persuade people to see [my movies]. It feels like lobbying for your own exam results."
This is how I feel about promotion.  (Someone trying to convince me that I don't actually feel this way in five…four…three…)
If you have one of those smart kids from 8-12 or so who would rather play video games than read, then this is certainly an appropriate book, and yes, almost all of the stories are appropriate for adults, unless you have a problem with eating rabbit, in which case skip the rabbit story.  Trigger warning:  eating rabbits, kid-level (but not comic-book) violence, stories about coping with an alcoholic parent, your own death, ADD, bullying, sexism (both ways), eating sushi, and more.  The world a lot of kids live in is not nice, and prim adults who disapprove of being honest about that doesn't really help make it any more bearable.  Or funny.
You can find the book at almost all other ebook stores, if you don't care about the sale.
Thanks 🙂