A writer torn between two genres, two worlds…and Horror always cheats.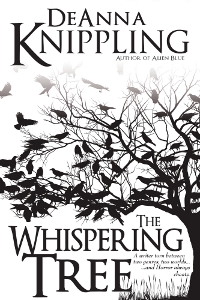 If only the best writer of his generation, Richard O'Shea, had come down clearly on one side or the other between the horror and fantasy genres, none of this would have happened. But he didn't, and now both worlds play dirty to get his soul.  The fairy lands send their queen:  a lusty, foul-mouthed punk with glitter and sex in her eyes.  Hell sends something darker.
The two worlds won't share him.  They're getting old, and need fresh meat, as it were, to revitalize their realms.  Richard wants to believe that the punk charms of Fairy have won him over…but Hell doesn't need Richard to like it in order to win.
Now the only thing between Richard and Hell's dark charms is Victoria, his editor.  An editor who carries both pens and swords…and has very sharp teeth…
"The Whispering Tree" is available at B&N, Amazon, Smashwords, Apple, Kobo, Powell's and more.