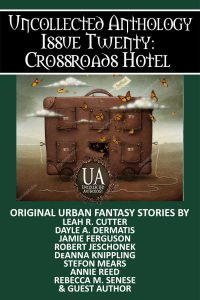 Uncollected Anthology: Crossroads Hotel
Universal Sales Link | Goodreads
Negotiate a convention of funeral directors and order a grilled cheese sandwich. Discover how walking upstairs can change your life or a watch can end it. Park your car out of the rain and unpack your suitcase. Just don't piss off the kitchen staff. 8 stories where fate controls the front desk!
Includes my story, "Memento Temporis."
It's thirty years to the day that Jim lost the love of his life, Laina Jarvy, back in 1929. Now a colleague's wife has a gift for him: a watch that will take him back in time to save Laina, and instructions on how to use it.
Jim's willing to pay whatever price is necessary to save her–but the offer that he's given in the past, at the mysterious Crossroads Hotel, smells more than a little like yesterday's fish.
Is he about to save Laina?
Or get stiffed?
…
I drove carefully on my way to the hotel. The last thing I wanted to do get in a car accident.
In my pocket was a yellowed piece of paper. The thing had to be decades old. It had some instructions on it, and an address to a place called "The Crossroads Hotel." I had hired a car, a 1927 Moon Sedan manufactured in St. Louis, Missouri. It was a brand-new car, but I had some trouble adjusting to the old-timey controls.
In my pocket beside the yellowed piece of paper was a pocket watch. It looked like a Lalique piece, and about as delicate as a perfume bottle. The front was studded with moonstones and enameled with a design of bats and witches. The bats and the witches sort of faded into each other, so it took some investigation to tell where one started and the other ended. On top of the winding-stem, for the chain-loop, was a snake eating its own tail.
Inside, the watch face was more unusual than I care to explain. The watch had nothing to do with telling the time, and everything to do with telling time what to do.
I had come from 1959, all the way back to 1929. Thirty years.
Science hadn't brought me here. Aliens hadn't crash-landed in the Nevada desert, bringing time-traveling technology down to mankind. A nuclear explosion hadn't knocked me for a time loop.
Instead, I had borrowed a pocket watch from a woman in 1959. Nancy Mattson was the wife of a junior colleague at Concordia University, in Portland. She had a wide brow and a cleft chin. You could just as easily imagine her in a suit and tie as a cocktail dress. She had that kind of mannish face. She was a good hostess—kept the vodka in the freezer box and was never afraid of putting out the sardines or Tabasco sauce.
I don't know how she knew to give me the watch, but she did.
It was that time of year again, July 16th. I wasn't teaching summer classes and I didn't have anything to get me out of bed in the mornings other than running out of cigarettes on my nightstand. It was the anniversary of her death—the woman who should have been my wife. I had lost Laina in Portland thirty years ago, to the day. Now instead of being a young writer with promise, I was a middle-aged professor with leather patches on his elbows to cover up the fabric getting worn through.
I had been invited to a faculty dinner-and-drinks party at Mike Mattson's house, and I had accepted on the grounds that being bored to death by faculty summer gossip would be less fatal than being home alone that night.
About eight o'clock, Nancy pulled me aside by the drinks table. "Jim, you look like death warmed over. Whatever is the matter? You didn't get fired, did you?"
"It's that date again," I said, swaying a little. I hadn't gone easy on the ice-cold vodka. Or the sardines. I must have been a real jewel. "Thirty years now. Christ, I shouldn't have come tonight."
"That date?" she asked. "What date?"
And, there and then, I was drunk enough to tell her what had happened…
Click here to read more!