I have stuff to celebrate today!  No new book contracts or anything, but good stuff.  Plus, I have enough on the alien feast done that I don't want to spend an hour researching stuff this morning…WRITECITEMENT!
I bought up the leftover Choose Your Doom:  Zombie Apocalypse books back from the Pikes Peak Writers' Conference.  So now if you'd like to buy a signed copy, let me know.  (I'm still nagging to get the outstanding reviewers' copies owed from Doom Press.)
League Entertainment, which covers Doom Press, has set up what sounds like an unprecedented deal with Ingram (major distributor), so they can go directly through Ingram's rather than a third-party…which should mean that our constant distribution problems are over.  I hope.  I really hope this means we can move forward with Book 2 soon.
I had a story, "Miracle, TX," published at Nil Desperandum as an audiostory.  Yesterday, I did a phone interview with the editor, Jim Phillips.  He asked some really interesting questions that I had to answer from my subconscious, because I hadn't fully thought them through before.  Plus, good things about CYD:ZA said there, too.
Important milestone for Wonderland Press:  I started out June with 11 things up; on the 22nd I had sold, on average, two copies per story.  On my third real month of publishing, without any novels to help pull up numbers.  From various people I've talked to, I guesstimated hitting 5 per month when I had around 30-35 stories up, so I feel like I'm on track after a month of second-guessing myself.  If I count the free stories, I have a LOT more stories out this month, but I'm still playing around with how to think about that.  I totally wish more of my stories went out free.
Back of the Book Reviews gave me an abundance of review love this month, on Zombie Girl Invasion, Bunny Attack!, and The Debt:  A Zombie Tale. HOW?!?  I've been watching how many books they review.  HOW?!?  My powers of speed-reading now seem so weak.  But I love it.
There are probably more good things, but I'm in a bubbly mood, and I'm hungry, so it's time to work on the cooking cozy, which reminds me, Ian said nice things about chapter 1 yesterday:  "This is a delightful beginning. Your voice has improved remarkably since the last time I read some of your work. This feels very natural and has an excellent flow to it. I enjoyed reading it. :)"
Ian just posted this: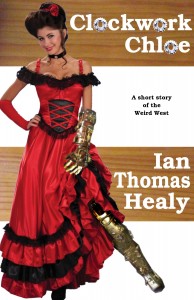 Which is so very nice, and I think I deserve a reward today, so I'm going to get a copy.  Click on the picture if you want a copy from Smashwords, too, or Amazon.com or Barnes & Noble.