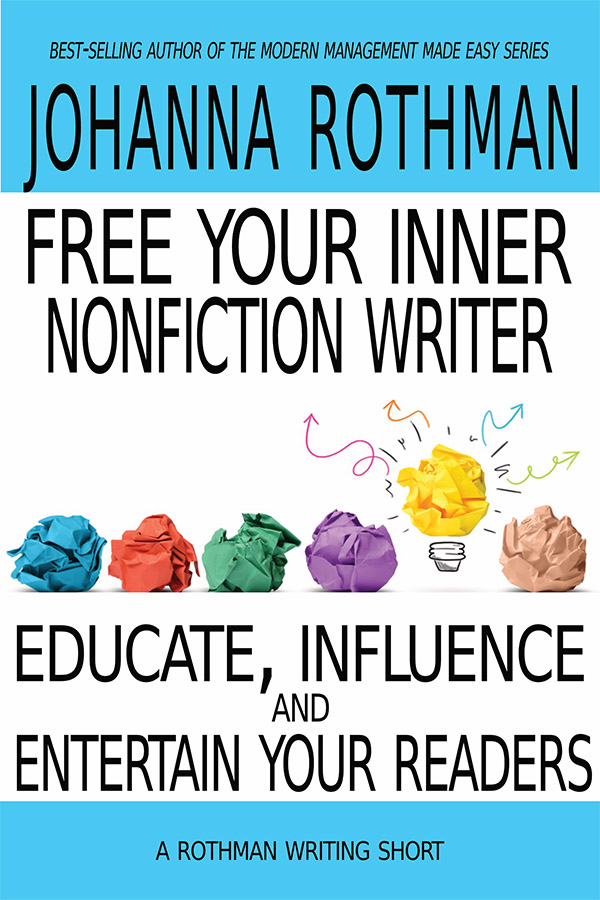 You're an expert who wants to become a nonfiction writer, sharing your knowledge with a wider audience in a structured, easy-to-digest format.
But creating non-fiction books isn't easy. (Even when you're skilled at other types of writing!)
Johanna Rothman is a long-time management consultant and author friend of mine who excels at taking complex business concepts and turning them into clear writing. In this book, she tackles the issues that non-fiction writers commonly face when putting down words.
Yes, that includes having a horrifying case of imposter syndrome.
Free Your Inner Non-Fiction Writer is part of the Write Stuff Storybundle, ten works on the craft & business of writing fiction available for a limited time.
UPDATE! The Write Stuff Storybundle is over, and Free Your Inner Nonfiction Writer isn't released for the public yet, but you can still find Johanna's newsletter signup link at the updated link below (where she will announce the book when it goes live):
I got to ask her a few questions for the StoryBundle! In fact, this book arrives at an extremely timely moment for me personally, because I'm struggling to stay confident enough to work on my nonfiction books!
---
1. What type of writer is your book aimed toward?
Nonfiction writers who want to write faster and better. Even experienced nonfiction writers don't always realize they think and learn as they write. Or, they start to edit too early, shortcutting their thinking and learning time. Instead, nonfiction writers who want to write faster and easier will benefit from this book.
2. What problem does your book solve for those writers?
Too often, nonfiction writers ask themselves this question: Someone has already written this. Why should I write my version? You should write your version, and that's because you have a different take on the topic. In particular, you have different stories to tell. Not just story as example, but story as in how you can structure your piece. Or story as in your experiences of what occurred and what you learned. All of those stories help your ideal reader connect to the topic and learn what that reader might do—or avoid.
3. Who do you consider your writing mentors?
My first writing teacher and a huge mentor was Gerald M. (Jerry) Weinberg. His book, The Fieldstone Method, freed me from the blank-page problem. Also, Dean Wesley Smith, who might not realize how well his advice applies to nonfiction writers, too. In addition, I've been teaching my nonfiction writing workshop since 2018. I have learned a *ton* from the writers I teach.
4. What else would you like readers to know about?
Reassess the writing rules your teachers gave you back in school. For example, many of us learned this rule: "You must always outline first." That's the same as saying: "You must always know all the requirements to start a project." You don't have to be a software person to know that's crazy-making. We learn as we proceed. Another thing I want readers to know: the faster you write, the more you sound like you, and that's why readers will read your work.
---
(See what I mean? Good stuff!)
Johanna's bio:
People know me as the "Pragmatic Manager." I help leaders and teams see simple and reasonable alternatives that might work in their context—often with a bit of humor. Equipped with that knowledge, they can decide how to adapt their work.
My philosophy is that people want to do a good job. They don't always know what they are supposed to do, nor how to do it.
I write an email newsletter, the Pragmatic Manager, two blogs on jrothman.com, and a personal blog on createadaptablelife.com with its own newsletter. Please take a look and sign up for the newsletters. I've written articles for all kinds of places. I've keynoted on five continents. I'm not sure I want to go to Antarctica.
You can find Johanna at:
Her website: https://www.jrothman.com
Twitter: https://twitter.com/johannarothman
Facebook: https://www.facebook.com/johanna.rothman