Writing Victories!
Zombified is coming out on October 1.  No preorder capabilities yet, and I'm not sure I can reveal the list of stories yet, but some fun stuff is there.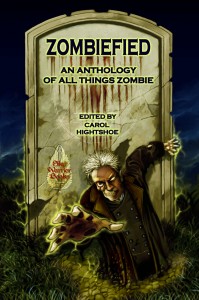 I will provide more information as I get clearance.  "Lanes of the Living Dead" is in there, bless its undead heart.
I also got an acceptance from Penumbra at Musa Publishing – it should be in the November issue.  Wow!  Fast… It's "Inappropriate Gifts," a short story about a mother who doesn't want her daughter to inherit the same gift that she received from her mother, way back when.  No, my mother didn't give me that stupid box, and in fact tried to take it away, metaphorically speaking, as best she could.  But forces went against her, sad to say.
I sold my 500th copy of Lei'd to Rest at Freeform Games, or about 1300 copies of all my stuff combined (the rest are expansion packs).  I'm working on the expansion pack for this one now, I mean, just about freakin' forever, because I hated two of the characters with a passion.  And yes, I came up with them.  But I figured out a possible solution.  So I hope that'll get approved and I'll be able to finish that, because I really want to work on the Hypothetical Holmsian Steampunk MMG Opus instead.  I have to say, both Steve and Mo at Freeform are EXCELLENT editors and have made my writing better.  All of my writing.  I'm a born rambler, and they're killer about trimming me back.
On the down side, I am suffering slow indie sales.  Siiiiigh.  The advice to not have a bajillion pen names cuts home here, I suspect.  But the free story ("Miracle, Texas," a tale of doomed Amazons in the Old West) is finally on its way to B&N via Smashwords, so it'll be free over there.  And from there, I can flip the story to free on Amazon!  And the world!  MUAHAHAHAHA, etc.
I just got back a galley of Chance Damnation that doesn't have screwed up fonts.  Note To Self, free fonts and PDFs at CreateSpace don't mix.  So now Chance is on sale as a POD book!  Whee!  I'll do a full post and giveaways and things in a bit, after I finish up a few freelance things that are occupying me at the moment.
I need to do two more kids' stories as De Kenyon, and then I'll be ready for a collection of that stuff, and Exotics #1 is after that.
It's going.  Slowly.  But it's going.